Sainsbury's boss says food could rot at border queues after Brexit
Mike Coupe says the UK buys in a third of its food from the EU and light border controls need to remain.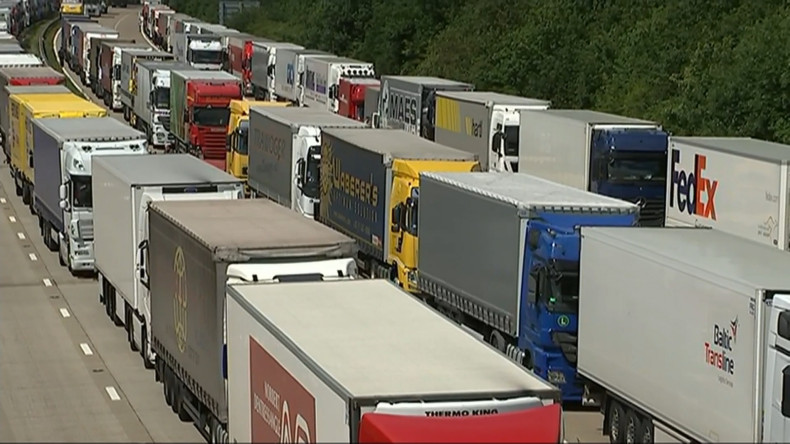 The boss of Sainsbury's warned fresh food could be left rotting at the British border if strict customs checks for European Union goods are imposed after Brexit.
The supermarket's chief executive Mike Coupe warned that anything disrupting established food supply chains, currently governed by EU customs arrangements, would be "detrimental".
"The UK sources roughly a third of its food from the European Union and food is by far and away the UK's largest export," he told The Press Association.
The move comes as Brexit talks between the UK and the EU become ill-tempered with little progress towards settling Britain's divorce bill, movement along Ireland's border and citizens' rights.
The European bloc said these matters must be settled before it will discuss future trading arrangements with Britain after leaving the EU.
EU's chief Brexit negotiator Michel Barnier said last week the bloc had to "teach the British people and others what leaving the EU means". While UK Brexit Secretary David Davis urged the EU to be "more imaginative and flexible".
However, the Sainsbury's head warned that the imposition of hard borders, as has been threatened by Brussels, would hurt Britain's food business.
Coupe said: "If you take our fresh produce supply chains, for example, we put things on a lorry in Spain and it will arrive in a distribution centre somewhere in England, and it won't have gone through any border checks.
Supply chain disruption
"Anything that encumbers that has two effects: it adds cost, and it also has a detrimental effect on freshness - if you're shipping fresh produce from a long distance, even a few hours of delay can make a material impact."
The warning comes after the British Retail Consortium said last week that food prices, already soaring following the Brexit-induced collapse in the pound, could rocket further unless measures to tackle red tape and improve ports are put in place before Britain exits the bloc in March 2019.
Coupe added that the repercussions of supply chain disruption are "not fully recognised" in Westminster.
The supermarket boss cautioned that if it gets nearer to March 2019 and a customs solution has not been found, retailers and food producers will "make that point and make it very strongly".
In a sign that businesses are becoming more vocal about the risks Brexit poses, the Aston Martin boss has also recently expressed alarm at the prospect of "cars being stuck at a French port for six months" following Britain's withdrawal the European trading bloc.