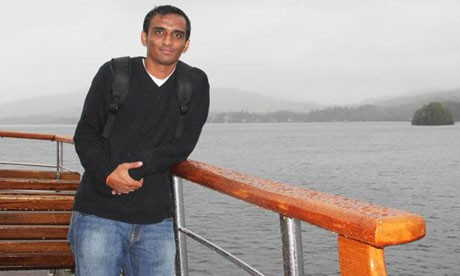 Four people have been arrested over the fatal shooting of an Indian student in Salford, Greater Machester.
Anuj Bidve, 23, was shot in the head at point-blank range on Boxing Day in a seemingly random attack.
Bidve, who arrived in the UK in September to study for a postgraduate degree in microelectronics at Lancaster University, is thought to have been asked the time by his killer. He replied before being gunned down, the Manchester Evening News reported.
Greater Manchester Police revealed that a fourth man has been arrested in connection with the incident. Two teenage boys, aged 16 and 17, and a man were arrested earlier and remain in custody.
Bidve was walking with a group of eight fellow students who were visiting Manchester over the Christmas period. They were heading towards the city centre when they were approached by a man who had been walking with a companion on the opposite side of the street.
He spoke to Bidve and it is thought that he asked for the time before pulling out a pistol and shooting him in the side of the head. The attackers fled the scene.
The police are not ruling out a racial motive. Chief Superintendent Kevin Mulligan said the force would "relentlessly pursue every possible lead".
More than 600 people have signed up to take part in a candle-lit peace march from the India Gate to the British Embassy in New Delhi on 2 January in honour of Bidve,
"Anuj was a loving son, a super-caring brother and, first and forever, a friend for many," family members said in a tribute released by police.
"He valued his relationships and put them over anything else. He was the first person you could call when in trouble.
"He loved to travel and loved his food. He loved to cook. He could easily bring a smile [to] anyone's face with his innocent jokes.
"He loved playing football. He enjoyed his time and life and is an inspiration for us to live life to its fullest.
"His passing will not only leave a void in our lives, but in the hearts of those who knew him," the tribute concluded.
Anyone with information on the case can contact Greater Manchester Police on 0161 8565448.