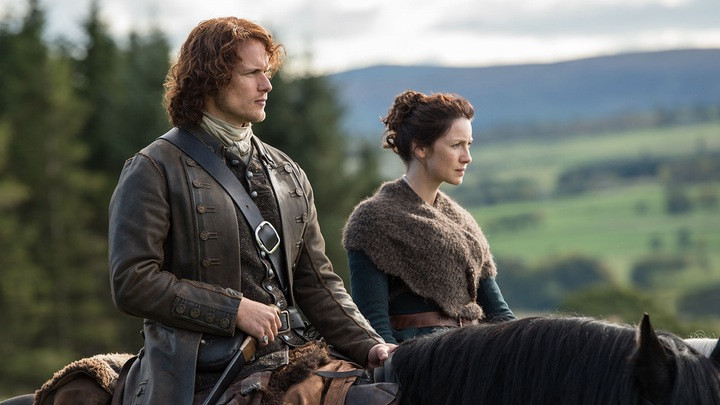 Outlander season 3 is currently filming and actor Sam Heughan has shared some details about his character Jamie's aging process and teased a much-awaited "reunion" with Claire in the Starz's hit time-travelling series.
In an interview with Vanity Fair, Heughan spoke about Jamie's new look in season 3. He explained, "I mean, I'm probably not allowed to say much, but I think we all know that the books do span a great amount of time. Season 3, in particular, yeah, I mean, there was an aging process. There was definitely a different look to the characters, but you'll have to tune in to find out, I guess."
"But even in Season 1, I had hours and hours of prosthetic makeup whenever the back scarring was on or Jamie got shot or injured. By no means does that stop in Season 3 so, yes, there's been a lot of very long days where I've been in makeup," he added of his character.
Speaking about not having scenes with his co-star Caitriona Balfe in season 3 opening episodes, he admitted that "it's like having a death in the family". Heughan explained, "Honestly, it's like having a death in the family. Well, I don't know, I mean, it's just like a different show. It's hard to separate yourself from the character. Jamie's present, living in his world, and Claire's present and living in her world, and they both believe the other is dead."
Coyly teasing a reunion scene, the 36-year-old actor said, "It's always hard when we're apart, actually, because she's a great person, great to come to work with, and a very good actress. But I think it all adds to the reunion—if there's a reunion, or when there's a reunion—well you know there's one in the books. It should be very special."