A US county finally handed its first marriage certificate to a same-sex couple, after County Clerk Kim Davis was jailed for refusing to comply with a Supreme Court ruling legalising gay marriage. However, Davis' attorney has claimed that licences are not valid.
Davis, an Apostolic Christian, was imprisoned on Thursday on civil contempt charges for defying a judge's order to resume issuing licences. US District Judge David Bunning had ordered Davis to resume issuing marriage licences, saying that her personal religious objection to same-sex marriage did not supersede her public duty to issue marriage licenses.
On Friday, James Yates and William Smith Jr were granted a marriage licence, becoming the first same-sex couple to be awarded one in Rowan County, Kentucky, since the landmark ruling on 26 June. Together since 2006, James Yates and William Smith had unsuccessfully tried to get a marriage license on many occasions. Many other same-sex couples followed suit yesterday.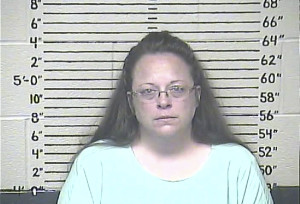 Outside the court, rival factions clashed over the issuing of the licence. Supporters of Yates and Smith shouted "Love won" whilst campaigners opposing equal marriage held placards with biblical quotes.
Legal fight continues
Hours later Davis' lawyers claimed the marriage licenses issued by her office were void because only Davis has the authority to authorise them. Attorney Mat Staver said: "They are not being issued under the authority of the Rowan County clerk's office. They are not worth the paper that they are written on."
After meeting with Davis in the Carter County jail in Grayson, Staver said he will file legal actions to appeal the contempt finding by the court and will fight to have the clerk released from jail. Although he could not say how long this might take. Until then Davis is expected to remain in jail for at least a week or until she agrees to follow the judicial order, reports the Lexington-Herald Leader.
Yates and Smith are among a number of local couples who sued Davis for a marriage license after she repeatedly turned them away. Davis has since become a beacon for those in the US who disagree with same-sex marriage.
Her defiance has been applauded by Republican presidential candidates, including former Arkansas governor Mike Huckabee and Texas Senator Ted Cruz. However, the Supreme Court Justice Antonin Scalia, who dissented from the Supreme Court's ruling over gay marriage, refused to support Davis saying that she should either issue the licences or resign from her office.
The County Clerk of Rowan County is an elected position. Due to this, Davis cannot be dismissed from her position for ordering her office's staff to not issue licences to same-sex couples; instead she must be impeached by the Kentucky Senate.