Samsung will release 4.7in and 5.5in versions of its premium Galaxy Alpha to challenge the up-coming threat of the larger iPhone 6.
Leaked images which have surfaced online in the last couple of days of the white version of Samusng's upcoming premium smartphone which is variously called the Galaxy Alpha, Galaxy F and Galaxy S5 Prime.
The new smarpthone was referenced last week by Kim Hyun-joon, a senior vice president at Samsung's mobile communications business who told reporters and analysts that the company was planning to launch two major new smartphones before the end of the year - one of which would use "new materials".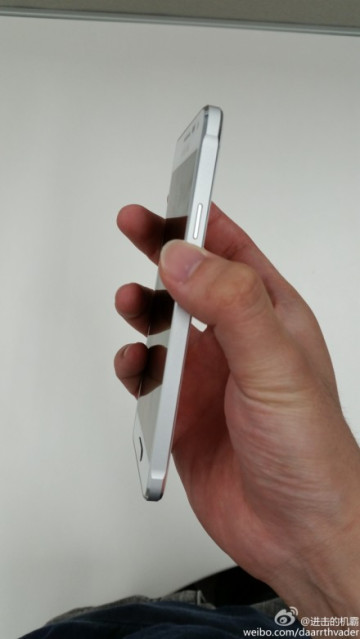 New msterials
The new materials can be clearly seen in the latest crop of leaked images of Samsung's new phone, as an aluminium band around the edge is something we haven't seen before from Samsung.
The leaker who posted images of the Galaxy Alpha on Chinese social network Weibo also claimed that Samsung would be launching a huge 6.7in version of the Alpha alongside the mainstream 4.7in model.
This reflects the expected Apple launch of two models of its iPhone 6, a 4.7in and a 5.5in version, later this year.
Indeed a second set of leaked images on Vietnamese website Tinhte show the upcoming Samsung device side-by-side with an iPhone, clearly showing that Samsung's device will be slightly thinner than Apple's current iPhone models.
Identical
Apple is however also expected to slim down the iPhone 6 and with Samsung's move to replicate some of the look and finish of the iPhone, the Galaxy Alpha and iPhone 6 could look almost identical.
The iPhone is expected to go on sale some time in September or October while Samsung is expected to launch its Galaxy Alpha smartphones later this month or potentially alongside the Galaxy Note 4 at IFA in the first week of September.