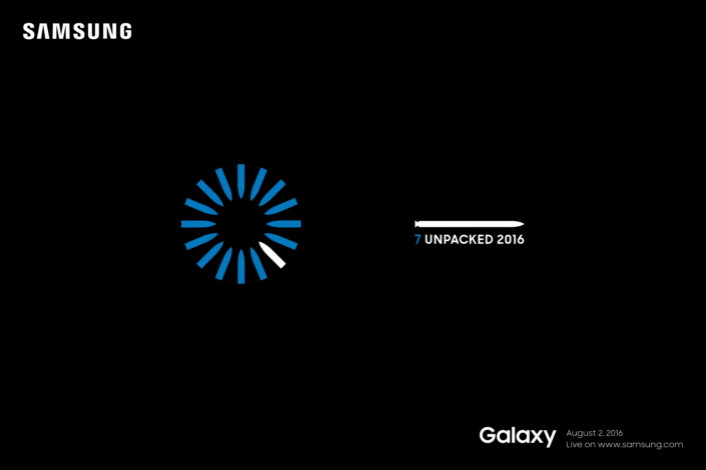 Samsung's much awaited flagship phablet, the Galaxy Note 7, will be unveiled on 2 August in New York, the company has confirmed. Although a teaser had surfaced with rumours of the launch date sometime back it was not sure until now when and where the company would launch the product.
Samsung took to its website to announce that it will unveil the Galaxy Note 7 at an event in New York City on 2 August at 11:00 am EDT while there will be satellite events taking place in London and Rio de Janeiro simultaneously.
The company also cleared the air on why it decided to name the device Note 7 instead of Note 6 as the last Note released by the company was the Note 5. "First, the Galaxy Note 7 will complement our Galaxy S7 and S7 edge, and unify our product portfolio. Second, the Galaxy Note7 will minimise confusion about the latest mobile technology from Samsung, and provide full alignment with Galaxy S smartphone," said a statement.
The Galaxy Note7 is rumoured to have a 5.7-inch Quad HD Super AMOLED display with renders showing a dual curve edged screen like the Galaxy S7. The flagship is also expected to run the Snapdragon 820 processor and could sport either a 4GB or 6GB RAM with a 12-megapixel camera on the back and a massive 4,000 mAh battery. The device is also speculated to feature the company's iris scanning technology which it has not used on any smartphone till date.
Another feature that Samsung has confirmed in their invite is the presence of S Pen expected to be bundled with new features. Previously, APK codes from Google had shown some exclusive features for S Pen devices that will feature in the Android Nougat OS making the experience for Note 7 users even better.