Samsung's newly announced Galaxy Note 3 featuring 5.7in full HD Super AMOLED display is currently the fastest smartphone on the market, according to benchmark tests.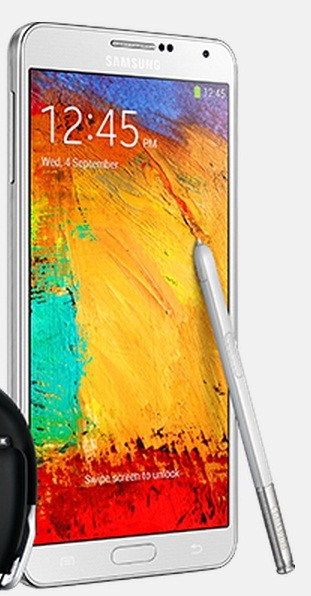 The LTE version of the Galaxy Note 3 uses a Snapdragon 800 chip featuring a quad-core Krait 400 central processing unit (CPU) with each core running at clock speeds up to 2.3GHz, paired with an Adreno 330 graphics unit. The Snapdragon 800 chip also carries 3GB of RAM. The 3G model, in contrast, is powered by a 1.9GHz octa-core processor. Processor specifications will vary by market.
The quad-core Snapdragon 800 clocked at 2.3GHz, inside the Galaxy Note 3 is currently the fastest processor in the market, according to a series of benchmark tests conducted by GSMArena.
The tests begin with Benchmark Pi in which the Galaxy Note 3 was tested against more than a dozen rival smartphones. Samsung's new Note was ahead of all its rivals while securing lowest score (lower is better) in the Benchmark Pi, a test that verifies CPU speed. There is a marginal difference between the scores of the Note 3 and LG's newest LG G2, which was just one point behind the Note 3.
In the Linpack benchmark, which tests the speed of an Android device compared with its rivals, the Galaxy Note 3 outshone all smartphones in the list, scoring 1091 points.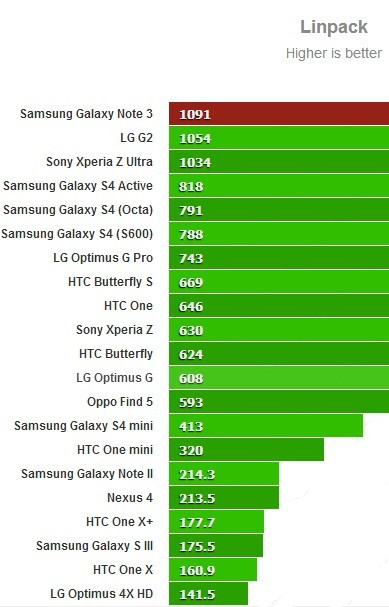 The Note 3 performed fairly well in the AnTuTu benchmark, which evaluates the overall performance of the device instead of just the CPU. It could not beat the LG G2, which occupied the first place in the test. However, the Note 3 was ahead of all its rivals such as Sony's large-screen smartphone the Xperia Z Ultra, HTC One, Galaxy S4, Xperia Z and Galaxy S3.
The Galaxy Note 3 retained first position in both the GLBenchmark tests in off-screen mode. The GLBenchmark is a 3D graphics performance benchmark. It should be noted that the Adreno 330 GPU on the Note 3 supports OpenGL ES 3.0, which was recently added to Android 4.3. As the Note 3 runs on Android 4.3, it is expected to offer better performance over the Snapdragon 800 powered devices running older Android 4.2 versions.
The Galaxy Note 3 was also, unsurprisingly, the top performer in the SunSpider JavaScript benchmark.
Also read- Samsung Galaxy Note 3 Now on Sale in UK: Where to Buy