Samsung's Galaxy S3 faces a meltdown as the US release sees delays according to Phones Review. One Samsung Galaxy S3 user in the UK had his smartphone bursting into fire according to The Inquirer. The smartphone's owner, Dylan claims that the device bought from UK retailer Carphone Warehouse caught fire while being placed in an in-car holster.
"So I driving along today with my Galaxy S3 in my car mount when suddenly a white flame, sparks and a bang came out of the phone. I pulled in to look at my phone, the phone burned from the inside out. Burned through the plastic and melted my case to my phone. The phone kept working without signal, said Dylan on the forum. In addition, the user claimed that his phone was destroyed, and the fire slightly burned a piece of plastic on the inside his car. Dylan claims that he had to return the device to Carphone Warehouse and was not even provided a replacement unit.
"After receiving no help from the Carphone Warehouse. Samsung contacted me, the head of customer services came out to see me and gave me a replacement phone. Even said he would send me out some free stuff. There is no confirmation that it was a fault with the phone. It may actually have been caused by a combination of my car mount and my cars heating system," updates Dylan on the forum.
Check out the pictures of the smartphone after the incident...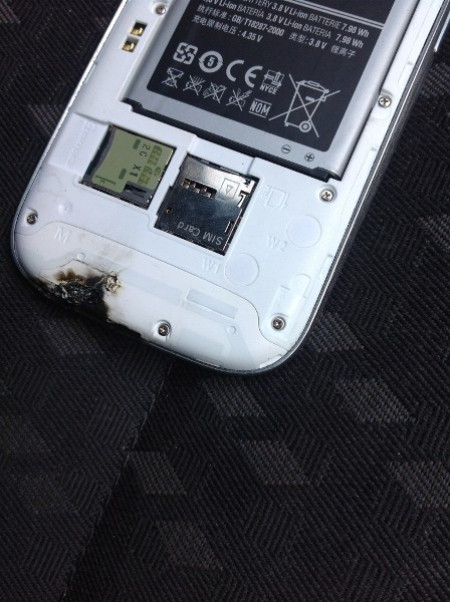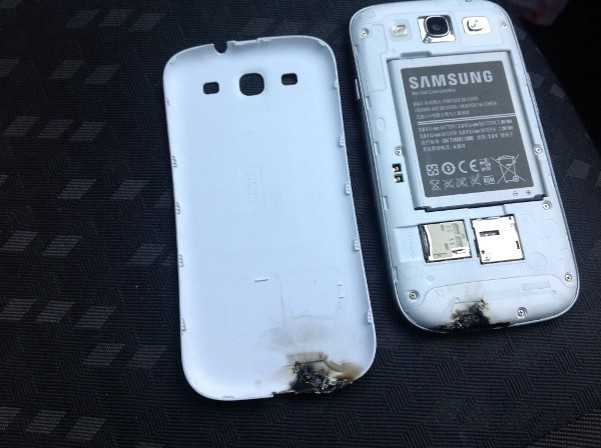 Meanwhile, the Korean giant posted a brief statement on its official blog acknowledging the issue.
"There have been recent online posts displaying pictures of a Samsung Galaxy SIII that appears to have heat-related damage at the bottom of the device. Samsung is aware of this issue and will begin investigating as soon as we receive the specific product in question. Once the question is complete, we will be able to provide further details on the situation. We are committed to providing our customers with the safest products possible and are looking at this seriously," reads the statement.
This is not the first time a device's tendency to overheat is being questioned. Back in March, owners of Apple's most recently launched iPad reported the device was prone to overheating, particularly in its lower left-hand corner.