According to reports, a Samsung executive has inadvertently let slip that the flagship Android smartphone being launched by Samsung in London next week will be known as the Galaxy S3.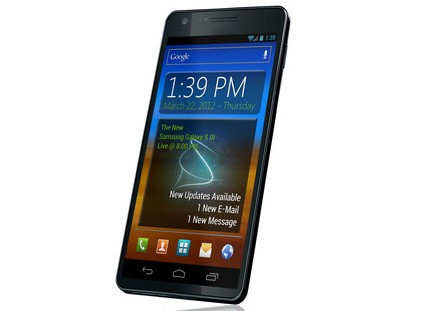 While reporting its first quarter results, Samsung Senior Vice President Robert Yi said: "We are anticipating very strong demand for Galaxy S3," according to a report from The Verge.
Rumours have been rife about Samsung's next flagship smartphone. The South Korean giant for the first time has officially mentioned the name of its next smartphone. In addition, Samsung yesterday officially confirmed that its next Galaxy smartphone will be powered by the Samsung-made Exynos 4 Quad, featuring a quad-core 1.4GHz processor.
Earlier during the earnings call, Samsung's executive claimed that the phone would be the company's "most successful smartphone ever." Apparently, the device was also shown several times during the presentation and following a Q&A session. "Global launch might be a possibility for the Galaxy S3," said Yi. But it appears that other executives abstained from mentioning the name of the upcoming Galaxy smartphone.
Samsung's quarterly handset division profits nearly tripled to 4.27 trillion won (£2.35bn), accounting for 73 percent of the total profit. Operating margins increased from 12 percent in the preceding quarter to 18.4 percent in thwe current quarter, on strong sales of the Galaxy S2 and the Galaxy Note, according to Reuters.
In the first quarter of 2012, Samsung also toppled Nokia as the largest seller of phones in the world, selling 93m handsets compared to 82.6m for Nokia. Samsung is also the largest seller of smartphones in the world, retaking top position from Apple will sales of 44.5m smartphones.
Several sectors have contributed to the strong performance by Samsung however, includes IT and mobile communications (IM) segments which comprises four businesses: mobile communications, telecommunication systems, IT solutions and digital imaging.
"Despite difficult business environments including seasonal low demand for major products such as PCs and televisions amid a global economic slowdown, we achieved record quarterly results based on our differentiated products and technology leadership," said Yi.
The company is planning to strengthen its competitive edge by introducing its latest flagship smartphones in London next week and IBTimes UK will be there to bring you all the latest details as they are announced.
MUST READ: Acer Iconia Tab 510 vs Asus Transformer Pad 300: Battle of The Biggies