The wait for Samsung's successor to the best-selling Galaxy S2 model has been a long one, particularly with rumour mill constantly churning out specifications and release details that whet one's appetite.
There seems, however, some respite from it all. According to well-placed sources from the Verge and The Korea Times, the Galaxy S3's launch has almost been confirmed as the 3 May event in London the South Korean tech giant previously called for,
Meanwhile, another report, this time from Christian Post, cites a Samsung executive as confirming, on 27 April, the next-gen smartphone's name would indeed be Galaxy S3. Fans of the Galaxy series will be happy about Samsung continuing the line.
The company also confirmed the new phone would feature the new 1.4GHz Exynos quad-core processor, according to the Verge. The same report also said an unnamed Samsung executive suggested the Exynos chipset would not be used in the US version of the phone; it will instead feature Qualcomm's dual-core processor and offer 3G and Long Term Evolution (LTE) support. It seems the European version will receive 3G support and the quad-core processor. The Korean version will add LTE to the 3G and quad-core processor mix.
Exynos Quad-Core Processor: Features
Samsung's Exynos 4 quad-core processor is designed using the 32nm High-k Metal Gate (HKMG) low-power process technology. Each of its four cores has been clocked at speeds of 1.4GHz and the chip is based on the ARM Cortex A9. According to Samsung's claims, the new quad-core chip has been rated to deliver twice the processing capability of the 45nm process-based Exynos 4 Dual while consuming 20 percent less power.
"To improve power efficiency, Samsung adopted hot-plug functionality to support on-off switching for each core as well as the per-core Dynamic Voltage and Frequency Scaling (DVFS), which offers a dramatic reduction in power consumption by adapting different levels of voltage and frequency when changing workloads," said Hankil Yoon, Senior Vice President of Samsung's Product Strategy team, according to mobilenapps.
"The application processor is a crucial element in providing our customers with PC-like experience on mobile devices. Samsung's next Galaxy devices, which will be officially announced soon, offers uncompromised performance and ground-breaking multi-tasking features, thanks to Exynos 4 Quad's powerful performance and efficient energy management technology," Yoon added.
The Exynos 4 Quad is said to be ideal for graphics and processor-intensive applications such as 3D games, video editing and calculation-intensive simulation.
Importantly, with a form-factor of 12mm x 12mm x 1.37 mm, it is pin-to-pin compatible with the Exynos 4 Dual (powering the Galaxy S2 and the Galaxy Note) making it easier for manufacturers to quickly adopt the new technology, the company added.
The new processor's other capabilities also include full 30 frames per second (fps) 1080p video playback and recording, an embedded image signal processor interface for the camera, an HDMI 1.4 interface for multimedia content transmission and a Power Management IC (PMIC) - the S5M8767 - as a companion chip to power the Exynos 4 Quad processor.
According to most rumours, the S3, otherwise, will have a 4.8-inch full HD 1080p resolution display with 16:9 aspect ratio, 2GB of RAM, an eight megapixel rear-facing camera (and a two megapixel front-facing camera), 16GB of storage, a 2,050mAh battery, support for 4G and LTE technology and will run on Android 4.0 (Ice Cream Sandwich) software. It will come in an ultra-thin ceramic case.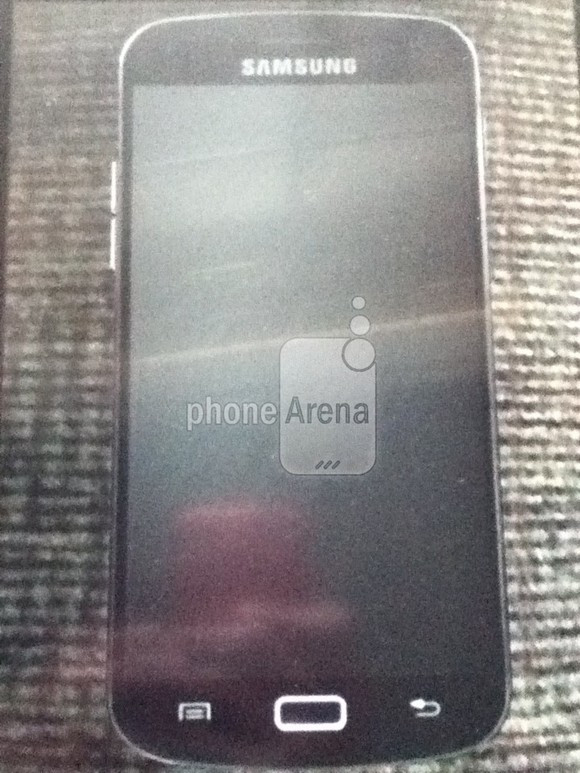 Meanwhile, a leaked image of the phone, sporting both physical and capacitive buttons on its front panel appeared in a report from TechRadar. The image was attributed to phoneArena.
While there is, of course, no absolute verification possible, until Samsung officially releases the phone, we should add there have been a number of such "leaked" images on the Internet.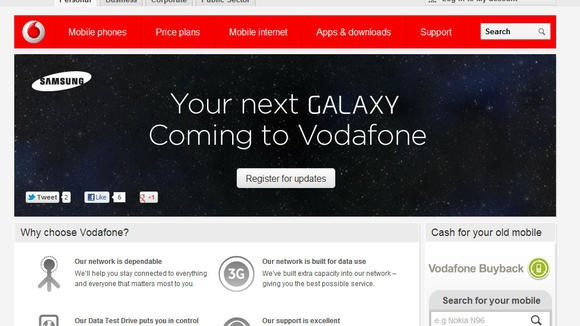 As if to add fuel to the fire, there is a new page that has appeared on Vodafone's Web site, which allows customers to register for updates on the next Galaxy device.
"It's highly anticipated the current page on the Vodafone website will change over to a Samsung Galaxy S3 holding page in the near future," a TechRadar source close to the manufacturer said.
While the rumour mongers work their way up with another set of speculations, you could watch this intriguing video predicting what the next-gen Galaxy phone could look like [Credit: Tech Radar]
MUST READ: Samsung Galaxy S3: Launch Event Details and Expected Features
MUST READ: Samsung Galaxy S3 Release Date Roundup: New Leaked Images, Leaked Smartphone Prototype and Top 5 Latest Rumours
MUST READ: Samsung Galaxy S3 Release Roundup: Top Ten Reasons to Upgrade [VIDEO]