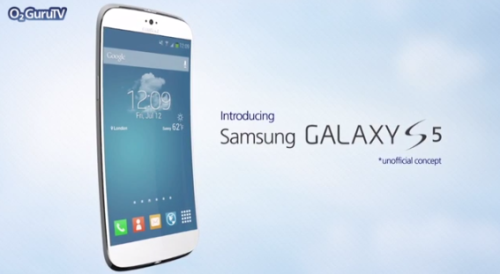 The Samsung Galaxy S5 will be available in two versions with varying processor performance and screen resolutions, while both models will include a fingerprint scanner for biometric security.
Predictions by analyst firm KGI Research claim both versions of the Galaxy S5 will have a 5.2in display and a plastic case, contradicting recent rumours of a metal S5 being in the works.
KGI Research believes the standard S5 will have a screen resolution of 1,920 x 1,080, while the so-called 'Prime' version will have a resolution of 2,560 x 1,440, resulting in a huge pixel density of 565 pixels per inch (ppi) - for context, the iPhone 5s has a pixel density of 326ppi.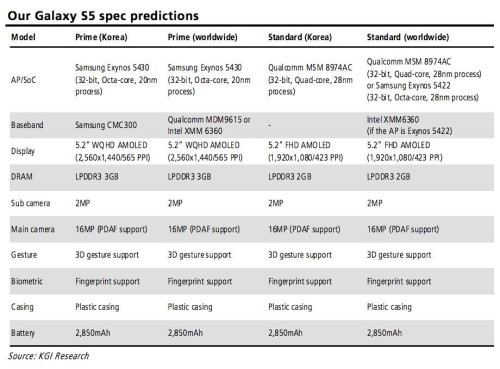 Both phones are said to offer a 16-megapixel rear camera and a 2-megapixel camera on the front. Both S5's will also feature a fingerprint scanner similar to Apple's Touch ID used to unlock the iPhone 5s instead of entering a PIN or password. It was originally thought the S5 would offer an iris scanner for extra security, but this feature now seems unlikely.
The lesser S5 is expected to be powered by either Samsung's own octo-core processor or a Qualcomm quad-core chip, depending on region, and will have 2GB of RAM. Samsung's 'Prime' Galaxy S5 will be sold worldwide with an uprated octa-core processor and 3GB of RAM.
Gesture control
All models will get the same 2,850mAh battery, according to KGI's predictions, along with 3D gesture support, which is believed to be an enhanced take on the S4's set of gesture controls
KGI failed to offer a release date for the S5, but earlier this month it was claimed by Russian journalist Eldar Murtazin that Samsung would announce the new smartphone at Mobile World Congress in Barcelona on 23 February.
Although we would expect Samsung to reveal its new flagship at a private event away from trade shows like MWC, Murtazin has a good track record in this area, accurately predicting the 14 March release date of the Galaxy S4 last year.