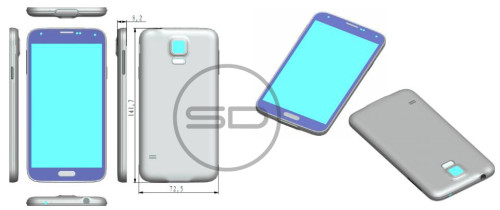 Data from a report indicates that buying a Samsung Galaxy S5 during the time of its release may not be a financially sound idea.
Samsung unveiled its latest flagship smartphone at an Unpacked event on 24 ebruary at the Mobile World Congress in Barcelona.
The smartphone has a new design, improved camera, is finally water and dust resistant and comes with new premium features like a fingerprint scanner and heart rate monitor. Reports indicate that people in the UK will be able to pre-order Samsung's new flagship starting March 28.
A report from Idealo compiles data from previous launches of Samsung flagship handsets namely the Galaxy S2, S3 and S4. It points out that with the previous launches Samsung's flagships have seen their prices drop drastically within one quarter of release.
"The average price of the Samsung Galaxy S2 had reduced by 13% of its initial value after three months of being on sale", says the report. "Its successor, the Galaxy S3, experienced a price decline of 14%. One generation down the line, we notice an even more significant price decline. The Galaxy S4, which was released in May 2013, was 18% cheaper by August 2013."
Based on this trend, it is expected that the Samsung S5 can be bought at 76% of its launch price three months after its release.
About the data
"The price data in the study is based on the click rates on Idealo. Every time that a users clicks on a product, the current price is recorded. Using each saved click in a month, Idealo has calculated the average price of the Galaxy models S2, S3 and S4. As Idealo users tend to click on offers for low-end devices, the average price is based on the 16 GB entry-level model.
The initial price of the Galaxy S2 is based on the average click prices on Idealo in May 2011. The entry price of the Galaxy S3 is based on the average click prices on Idealo in June 2012. The initial price of the Galaxy S4 is based on the average click prices on Idealo in May 2013."