Key Features:
8.4in display with 2560 x 1600 pixel resolution
Exynos 5 Octa-Core CPU
Android 4.4 (KitKat)
6.6mm; 294g
3GB RAM; 16GB storage
Price as Reviewed: £319
Samsung Galaxy Tab S (8.4) Review
Despite the hundreds - if not thousands - of tablets launched since Apple unveiled the iPad in 2010, none have made an major impact on the market.
Apple's dominance of the market may be waning, but people still interchange the terms 'tablet' and 'iPad' in a way they never would with Nexus 7, Kindle Fire or Galaxy TabPro 12.2.
This is where the Galaxy Tab S range comes in, with Samsung launching two premium models which will go toe-to-toe with the iPad Air and the iPad mini.
Here, I'm looking at the smaller 8.4in version to see if the Galaxy Tab S is finally the product to challenge the iPad.
---
Galaxy Tab S Review: Design
---
The first thing you notice about the Galaxy Tab S is that it is incredibly thin. At 6.6mm it is not only thinner than the iPad mini 2, it is even thinner than the Samsung's own Galaxy S5 smartphone.
The Tab S is taller and narrower than Apple's offering due to its 16:9 screen aspect ratio and while it's not a huge difference, it does make it a bit more awkward to use single-handed - for example when trying to read a ebook.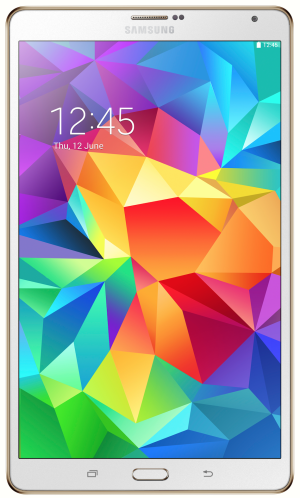 The tablet has a dimpled rear cover which is a little to glossy for my tastes but is still better than the finish on the company's most recent Galaxy S smartphones.
The white and gold combination on my review unit was attractive with a "titanium bronze" model also available.
At 294g the 8in model is also incredibly light, 40g lighter than the iPad mini 2, yet it avoids feeling flimsy or insubstantial.
---
Galaxy Tab S Review: Screen
---
The screen on the Tab S is the big selling point of this tablet, which Samsung calls the "world's greatest".
The 8.4in (measured diagonally) Super Amoled screen has a resolution of 2560 x 1600 pixels, giving it a pixel density of about 360 pixels per inch (ppi). Add to that Samsung's claim that it can reproduce 97% of the Adobe RGB colour coverage and it seems like the boasts are being backed up.
Stacking it up against the iPad mini (324ppi and around 70% colour coverage), it is clear that on paper at least the Tab S is the winner.
And this translates into the real world, with the screen on the Tab S being the best I've ever seen on a tablet. It is crisp, clear and colour reproduction is unrivalled.
However, one note. All the above is only valid once you turn off Samsung's Adaptive Display feature, which aims to change the screen's settings depending on whether you are reading a book or watching a film.
It pointlessly saturates colours and makes everything look unreal. Just turn it off and leave the screen in Basic mode and all will be OK.
---
Galaxy Tab S Review: Hardware, Performance and Battery Life
---
The Galaxy Tab S will come with Samsung's own powerful Octa-core Exynos 5 chip along with a huge 3GB of RAM. The tablets come with either 16GB or 32GB of storage along with a memory card slot to add up to an extra 128GB of storage if needed.

Performance was flawless, and with this much power, multitasking, intense 3D games and HD video streaming are not a problem for the device - and despite its slim profile, I didn't find it got that hot.
A 4G version of the Tab S is also available (for an extra £80) and all versions get Bluetooth 4.0, an IR blaster, and support for the faster Wi-Fi ac standard.
The tablet also brings over the fingerprint scanner from the Galaxy S5 and while it works a little better than it did on the smartphone, it's still not as smooth an experience as the iPhone 5s.
Battery life however is excellent. I got a good 10-12 hours of mixed use out of the Tab S' 4900mAh battery and over eight hours of continues video playback.
---
Galaxy Tab S Review: Camera & Speakers
---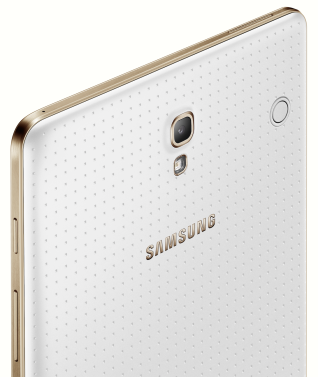 The 8 megapixel camera on the rear of the Tab S, in conjunction with its LED flash, is a decent solution if you are in a pinch and don't have a smartphone or compact camera to hand.
Aside from looking like a berk taking pictures on your tablet, the results are decent though detail is not a strong point.
The front-facing 2.1 megapixel camera is also above average for a tablet, and copes well with video calling.
The tablet's speakers are built into the top and bottom (in portrait mode) of the Tab S, and while this is not as ideal as having them front-facing, it does help when watching a film in landscape mode.
Again, the speakers are decent, but won't replicate your surround-sound system.
---
Galaxy Tab S Review: Software
---
And so we come to the Achilles Heel of all Android tablets.
While Apple's iPads are well designed, have good screens and powerful processors, the reason most people buy them is because of the wealth of software available.
Yes, Google's Play Store has more apps than Apple's App Store, but when it comes to tablet optimised apps, Android is very much second best to iOS.
While Google is making a lot of effort to get developers to focus on tablet-optimised apps, the number available at the moment is nowhere near Apple's offering and this - more than anything else - is the Galaxy Tab S' weakness.
Samsung has as usual put its own stamp on Android with TouchWiz and while it's nothing terrible, it's also very unnecessary. Thankfully with Google Now Launcher app, you can get something approximating a pure Android experience on the Tab S.
---
Galaxy Tab S Review: Value and Verdict
---
At £319, the 16GB Galaxy Tab S 8.4 is the same price as the iPad mini with Retina display, and so, as it isn't competing on price it needs to stand out in other ways in order to attract customers.
And it does. The Galaxy Tab S is the best Android tablet to date. It has a class-leading screen, powerful processor with lots of RAM, great battery life and (for Samsung at least) is really nicely designed.
The only problem I see with this tablet is Android and its lack of tablet-optimised apps. Google is working to address the issue, but for now, it is the one sticking point for those considering buying the Galaxy Tab S over the iPad mini.
Scores
Screen 10/10 - Simply the best tablet screen around
Design 9/10 - Not quite Apple-quality, but not far off
Performance 9/10 - Fast and powerful
Value 9/10 - It's not cheap, but it is the best Android tablet around
Software 7/10 - When Android gets more tablet-optimised apps, this will be better than the iPad mini
Overall 9/10 - The best Android tablet ever made
The Good
Amazing screen
Thin and light
Powerful
Great battery life
The Bad
Lack of tablet optimised apps on Android
Relatively expensive for 8in tablet