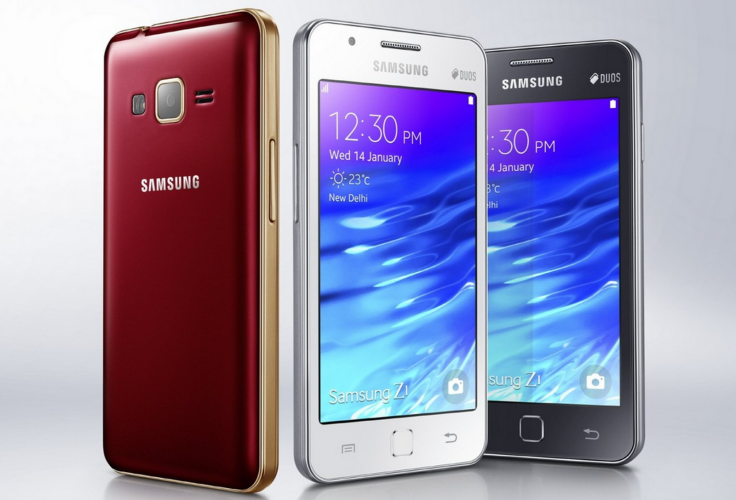 It looked for all the world as if Samsung had simply given up on launching a smartphone powered by its home-grown software Tizen.
On four separate occasions during 2014 the South Korean company tried and failed to launch one in Russia, Japan, France, and India. The reason was a lack of support from developers and carriers for an operating system almost no one knew about in a world where Android and iOS account for more than 95% of the smartphone market.
But today, Samsung has finally succeeded. It has launched the Z1 smartphone in India with the low price of just £60 in an attempt to capture a slice of one of the fastest-growing smartphone markets in the world.
The Samsung Z1 is not going to challenge the company's flagship models such as the Galaxy S5 or the Galaxy Note 4, as it features pretty dated hardware such as a 1.2GHz processor, 768MB of RAM, and a low resolution 4in screen.
It does however have several features which will appeal to users in India, including a dual-SIM configuration, built-in antivirus protection and the ability to send an SOS alert message to your primary contacts simply by pressing the power button four times.
The OS of Everything
The biggest talking point about the Z1 however is the presence of Tizen, a smartphone operating system which is based on Linux and has been developed by Samsung (among others) to work on a huge variety of devices.
At the Consumer Electronics Show last week Samsung revealed its latest smart TVs would be running Tizen, while the company is set to use the software in its burgeoning Internet of Things range of devices - for which Samsung has a very utopian vision.
Samsung already uses Tizen on some of its smartwatches and it will be hoping that the software could become the de facto platform for the connected world. Indeed, the official Tizen website dubs the software: "The OS of Everything".
However it is smartphones which are the crucial cog in the wheel to make Tizen a viable platform and attract developers to create apps for it.
At launch however Samsung has been unable to attract that type of support, and users will simply find web versions of popular apps like Facebook, Twitter and YouTube pre-loaded on the phone. There are some apps available in the Tizen Store, which was launched this month, including the hugely popular messaging app WhatsApp.
Replacing Android?
Samsung's decision to push ahead with a Tizen smartphone, even on this small scale, will not have escaped the attention of Google executives in Mountain View.
Samsung has long been the biggest Android smartphone seller in the world, however the South Korean company has recently seen profits from mobile phone sales slide dramatically.
The problem is that unlike Apple, Samsung makes no money from its smartphones after they are sold The vast majority of apps, music, books and films are all sold through Google's own online stores leaving Samsung to look for a way to circumvent this system.
Initially it tried sidelining Google's Android services and replacing them with its own, but Google stepped in and forced Samsung to retreat, getting the company to sign up for a 10-year cross-licensing deal to make sure Google Play remained front and centre on Samsung's Android smartphones and tablets.
Indian competition
And so Samsung has turned to Tizen. It will be hoping that in a market where 70% of the population still use basic mobile phones, the potential to grab a significant slice of the pie is much better than in western countries where the smartphone market is saturated.
The problem is that Samsung faces huge competition in countries like India from an array of manufacturers including the Chinese (Xiaomi, Lenovo and Huawei) as well as local manufacturers (Micromax and Karbonn) - all of whom offer low prices as well as access to over a million apps on the Android platform.
Indeed, Google is making its own play for this market with its Android One initiative, which is a special version of Android created for lower power phones in developing markets. At the end of 2014 it launched the first three Android One smartphones in India in partnership with Karbonn, Micromax and Spice - all of which are cheaper than the Samsung Z1.
Samsung is clearly looking at all options when it comes to the smartphone market as it seeks to stop the dramatic slide in profits it has seen over the last six months. The Tizen-powered Z1 is an interesting option, but without developer support and facing huge competition, it could struggle to stand out in a very crowded market.