A man suspected of shooting two US journalists on live TV in Virginia, has died in hospital as a result of a self-inflicted gunshot wound, police have confirmed. Vester Lee Flanagan II, known professionally as Bryce Williams, shot and killed WDBJ7 TV reporter Alison Parker, 24, and cameraman Adam Ward, 27, seven hours earlier during a live broadcast in the town of Moneta.
The gunman later uploaded a video of himself on Facebook, opening fire at close range and killing the pair. Immediately after the shooting, Flanagan, 41, an ex-employee of WDBJ7 TV, was initially reported to be at large. Virginia State Police said the suspect's vehicle was spotted on the Interstate 66 highway following the shooting.
Following a police chase he crashed the vehicle off the road and was quickly surrounded by police. He then turned his gun on himself. "Troopers approached the vehicle and found the male driver suffering from a gunshot wound," the force said in a statement.
Williams was transported to hospital in "a critical condition" and is now confirmed to have died of his injuries, Sky News reports.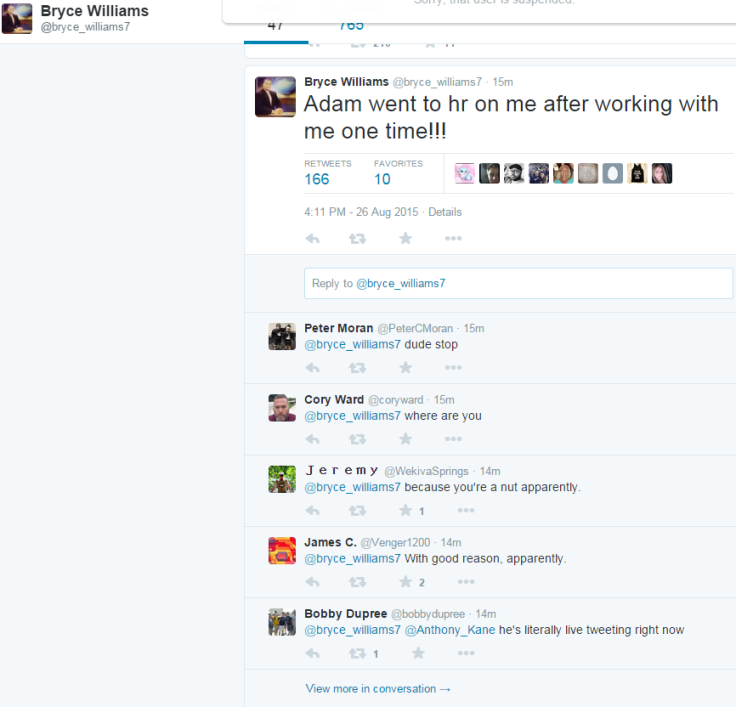 An experienced reporter, Flanagan was hired at the station in 2012. He has been described as difficult employee, frequently alleging that staff at WDBJ had made "racial comments" towards him. Posts on his Twitter account suggest the disgruntled employee had a grudge against Mr Ward, 27, and Ms Parker, 24. He complained on Twitter that Adam Ward, one of the journalists he had shot dead, had reported him to HR.
"I filmed the shooting see Facebook", "Adam went to [human resources] on me after working with me one time!!!" and "Alison made racist comments. EEOC report filed. They hired her after that???" he wrote. He added that he had filed a complaint with the Equal Opportunity Employment Committee.
Jeff Marks, the station manager at WDBJ, revealed that Flanagan had been dismissed from the network in 2013 as a result of his angry outbursts. "Eventually after many incidents of his anger coming to the fore, we dismissed him. And he did not take that well, we had to call the police to escort him from the building," he added.
US news broadcaster ABC has said it received a 23-page fax from someone claiming to be Flanagan.The rambling manifesto expresses admiration for the Columbine High School killers and refers to a "race war". ABC have turned it over to the authorities.
WDBJ's general manager Jeff Marks appeared live on air to report the tragic killings. He said: "It's my very, very sad duty to report... that Alison and Adam died this morning."
A White House spokesman has said the fatal shooting of the two Virginia journalists is further evidence of the growing incidence of gun violence in the US.