A sex robot pioneer claims the industry is booming as Christmas approaches and he has a theory as to why the silicon seductresses are so popular at this time of year.
Inventor Sergi Santos – the man behind the Samantha sex robot – told IBTimes UK he thinks people are more likely to cuddle up with his £3,000 ($4,000) love dolls in the winter, because they are stuck in the house and need some company.
He also revealed that he has developed a method for heating up his creations – giving them a comforting body temperature for their owners to enjoy on a long winter's night.
"Christmas is the best market for for sex dolls and robots – it peaks," Santos said.
"Most sex dolls are brought in the US, then Germany then the UK. In these countries it's very cold in winter so maybe you don't go out so much and get a sex doll instead."
The scientist stressed that this was only a hunch and couldn't be backed up with evidence, unlike his published work on robotics.
And now he has designs to give a touch of warmth to Samantha's life-like silicone skin. He could not disclose details of the technology because he is yet to patent it but he is hoping to do so in the near future.
He said: "This is something I have been planning for a while. One or two months ago my Chinese collaborator suggested increasing the temperature. We built a prototype in my workshop, which he is now producing in China.
"He hasn't even instructed his workers to make it because they might copy him."
Santos was also eager to play down stories of an alleged feud between himself and Matt McMullen, creator of the Realdoll – a rival product.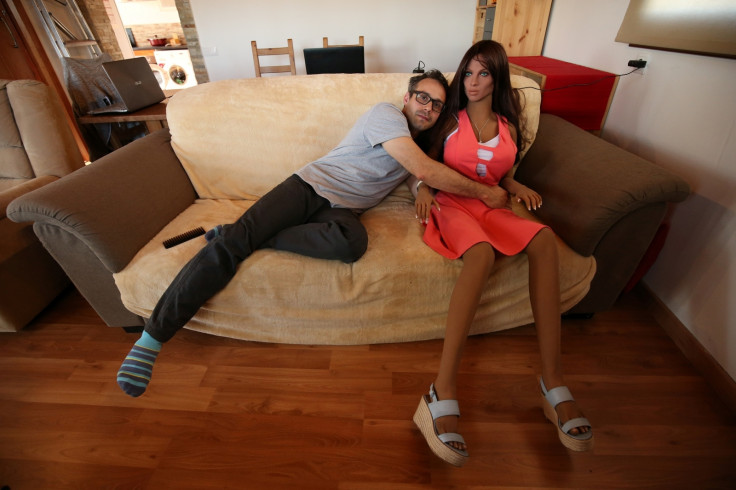 The tech entrepreneurs are both racing to develop the sex robot of the future, which could one day fully integrate with human society.
Tensions appeared to have got the better of McMullen last week when he used an interview with the Daily Star to call Santos's creation "kind of cheesy" and "closer to a toy".
Santos hit back, arguing that McCullen's company has been around longer than his and that it had more money for development – Harmony dolls are £15,000, three times the price of Samantha.
But the Spanish inventor told IBTimes UK that his words had been taken out of context and that personal disputes were a distraction from the important work that both men do.
"What do you remember from the 20th century?" he said. "You remember Einstein's theory of relativity, the nuclear bomb, not two guys fighting."