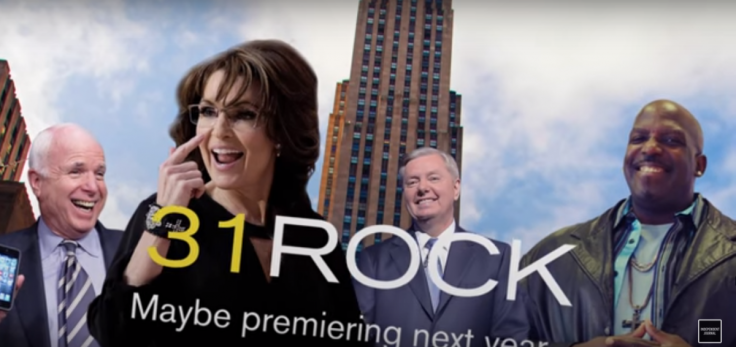 Rather than get upset over Tina Fey's comic sketches of her on the Saturday Night Live show, former Alaskan governor Sarah Palin has decided to get even. Palin has come out with her own spoof of the actress's Emmy award winning NBC sitcom 30 Rock.
The new video for Independent Journal Review titled 31 Rock features Palin as Lynn Melon, mimicking Fey's Liz Lemon. The former Republican vice presidential candidate is joined by her 2008 GOP presidential running mate John McCain playing a version of the Alec Baldwin character Jack Donaghy, and Lindsey Graham spoofing goofball NBC page Kenneth Parcell. Kevin Brown appears as his original character Dot Com in the parody video.
Palin mimics Lemon's mannerisms along with her quirky sense of dressing in the spoof trailer video. She mentions political correctness, complains about not having snowflakes on her Starbucks and demands her Big Gulp.
Tina Fey most recently reprised her role as Sarah Palin on SNL on 19 December, in which she offered Hillary Clinton (played by Kate McKinnon) advice on her presidential campaign. Amy Poehler also stepped into an earlier role as the 2008-era Hillary Clinton in the video titled A Hillary Christmas.