The second flogging session of Saudi Arabian online activist Raif Badawi has been postponed.
Badawi was arrested in 2012 for promoting public debate on his site, which has since been closed. Following the arrest, he was sentenced to 1,000 lashes and 10 years in prison.
He was publicly flogged 50 times after prayers last Friday (9 January) and was set to be lashed every week for the next 19 weeks until the punishment is complete.
This week, however, Saudi Arabia has postponed the lashing, according to Amnesty International, which has been campaigning for the release of the activist.
A spokesperson for the NGO said: "Raif Badawi was removed from his jail cell this morning and taken to the prison clinic for a medical check-up before his sentence was due to be carried out.
"The doctor concluded that the wounds had not yet healed properly and that he would not be able to withstand another round of lashes at this time.
"He recommended that the flogging should be postponed until next week. It is unclear whether the authorities will fully comply with this demand."
Badawi's wife, Ensaf Haidar, who now lives in Quebec, appealed to the Canadian government to apply diplomatic pressure against Saudi Arabia to stop the floggings.
She also told Amnesty that she fears her husband is not physically fit to endure a second round of lashes.
"I told our children about the news last week so that they would not find out about it from friends at school. It is a huge shock for them. International pressure is crucial, I believe if we keep up the support it will eventually pay off. We must keep on fighting," said Haidar.
The Kingdom 'must abide by international human rights standards'
The family's spokesperson, Dr Elham Manea, who is also an associate professor specialising in the Middle East at University of Zurich, told IBTimes UK that Badawi's family is in contact with him, but they do not know whether he will be released or not.
"This man is in prison for nothing other than expressing his opinion," she said. "We are hoping that international pressure will change things. All of us involved in Raif's campaign have been overwhelmed by the incredible outpouring of global support and solidarity, but the most important thing is not to forget Raif's case.
"It is about time that Western countries, especially those allied with Saudi Arabia, make a stance and withdraw their ambassadors from the Kingdom and that Saudi Arabia abide by international human rights standards."
Manea also explained that the situation is very difficult for the family.
"Imagine three children who have been deprived of their father for four years," she said. "His wife, who also is a human rights activist, will probably won't be able to see him for at least 10 years."
Speaking about freedom of expression in the Kingdom, Manea explained that the case of Badawi is not isolated.
"Raif Badawi is a showcase for the dire conditions of freedom of expression and human and women's rights. Many political and women rights' activists, writers and bloggers are in jail today in Saudi Arabia for their exercise of freedom of expression," she concluded.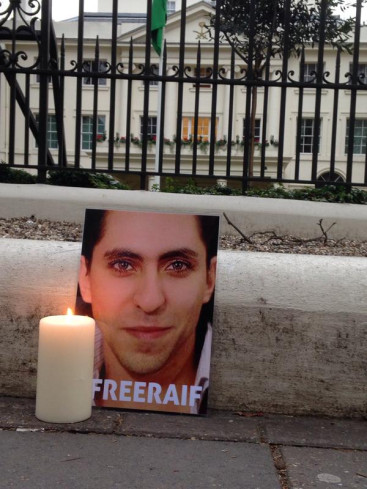 Floggings are 'designed to scare people'
Thousands have joined marches held across several European cities to show their support to Badawi and his family.
London-based NGO The English Pen, an NGO campaigning to defend writers and readers in the world, organised a vigil at the Saudi Embassy in London Mayfair on Friday 16 January.
Speaking to IBTimes UK, English Pen's head of campaigns and communications Robert Sharp urged the international community "to do a lot more to put pressure on Saudi Arabia's government.
"It's appalling that Saudi Arabian can violate human rights in this way and still being in such good relations with the international community," he said.
"We should not be trading with a country like this. If there is no free expression for Badawi, how can we be sure that information coming from Saudi Arabia is true?
"We cannot trust what Saudi Arabians say, because these floggings are designed to scare people and warn them against saying the truth."
"Saudi Arabia is destroying Saudi culture and is also insulting Islam: Every Muslim I spoke with is appalled that religion can be insulted in this way."