Saudi Arabia has twice as many UK-manufactured warplanes at its disposal in combat missions like the Yemen than the Royal Air Force (RAF).
Almost 100 combat jets are in daily use in bombing rebel Houthi in neighbouring Yemen, according to Saudi officials. Of these, about half are Eurofighter Typhoons and Tornado GR4 ground attack fighters.
Many of the planes used by the Royal Saudi Air Force were sold under the controversial al-Yamamah arms deal made by manufacturer BAE Systems.
The Saudis also have at their disposal 73 Tornado jets carrying Paveway IV and Storm Shadow bombs, both made in Britain. The RAF could muster only around 30 Tornados if called into action, according to a report in The Telegraph.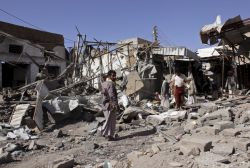 Military chiefs have long warned that cuts to the UK's armed services are leaving the country vulnerable to attacks from a newly-confident Russia, groups such as Isis or some other unknown enemy. By 2018, Britain will be able to call on just 82,000 soldiers - its lowest total for 200 years.
Air Chief Marshal Sir Michael Graydon said: "To mount a campaign for a lengthy period of time, as the Saudis are doing in Yemen, you need to have a lot of aircraft and a lot of aircrew to fly them, and we simply do not have those sorts of numbers because of the budget cuts."
Recently the Commons Defence Select Committee noted that just six per cent of Coalition missions against Isis - also known as Islamic State (IS) - were carried out by the RAF. Committee chairman Rory Stewart called the figure "strikingly modest."
Nato wants the UK to commit itself to spending two per cent of its annual budget on the military, but Chancellor George Osborne has refused to do so.
This has led to criticism from former US ambassador John Bolton that "our mutual adversaries immediately assume, all too accurately, that a weakened Britain reflects a weakened America, and they are emboldened."