Saudi historian: Western women drive as they 'don't care about being raped'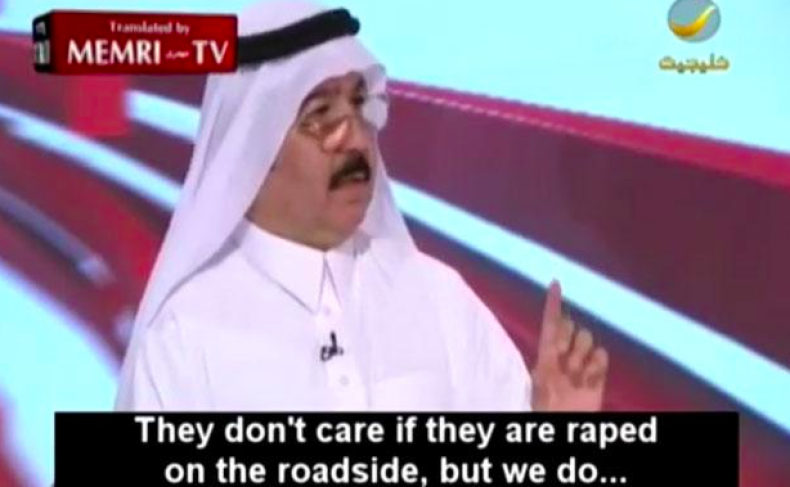 A Saudi historian has come under fire for saying on television that Western women drive cars since they "don't care" about being "raped".
Speaking on the topic of women being forbidden to drive in Saudi Arabia, historian Dr. Saleh al-Saadoon justified the ban on the Rotana Khalijia TV, by saying that women risk being sexually assaulted and attacked on the roads if their car ever breaks down.
"They don't care if they are raped on the roadside - but we do," Dr. al-Saadoon told the TV host.
In response, the female host said: "hold on, who told you that they don't care about getting raped by the roadside?" to which Dr. al-Saadoon replied: "It's not a big deal for them beyond the damage to their morale."
The female host argued on saying: "What is rape if not a blow to the morale of a woman? That goes deeper than the social damage."
Dr. al-Saadoon insists that Saudi women should be grateful that their men are willing to drive them around.
"Everybody is at their service. They are like queens. A queen without a chauffeur has the honour of being driven around by her husband, brother, son and nephews. They are all at the ready for when she gestures with her hand," said Dr. al-Saadoon, reported The Independent.
Dr. al-Saadoon went on to suggest bringing female foreign chauffeurs in the Kingdom.
"The solution is to bring in female foreign chauffeurs to drive our wives," said Dr. al-Saadoon.
The Saudi historian's remarks have stirred a storm online.
<axiframe src="https://www.youtube.com/embed/KQEeXmcWOxI" frameborder="0" width="420" height="315">