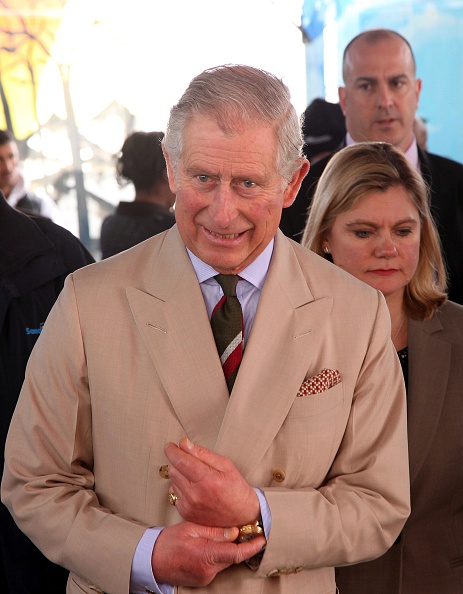 Prince Charles received a 'friendly response' after raising jailed Saudi blogger Raif Badawi's case with Saudi Arabia's new King Salman.
Over a luncheon at King Salman's palace in Riyadh on Tuesday (10 February), Prince Charles reportedly raised Badawi's case, a source said.
The details of the private talk, however, were not revealed.
Prince Charles also met Saudi Arabia's Crown Prince Muqrin, along with other senior government figures
The Prince of Wales had been urged by human rights groups, including Amnesty International, to "pass on a few well chosen words" to King Salman regarding Badawi's case.
Kate Allen, the director of Amnesty International UK, had earlier said: "We don't expect Prince Charles to give up the red carpets and state banquets and become a human-rights campaigner but, as a man who knows the Middle East well, we hope that he will use this visit to pass on a few well-chosen words to his royal hosts."
Sir William Patey, a former ambassador to Saudi Arabia, told BBC News that Prince Charles had a unique way of addressing human rights issues with the Kingdom without making the Saudis "bristle".
"The importance of the royal family in this country means royal to royal links are of particular value. These kinds of visits are capable of having an impact," said Simon Collis, British ambassador to Riyadh.
The Prince is currently on a six-day Middle East tour and has so far visited Jordan and Kuwait with United Arab Emirates and Qatar still on the itinerary.
In Jordan, the Prince visited a refugee camp and held talks with Jordan's King Abdullah.
Prince Charles is visiting Riyadh for the second time this year following last month's visit when he was in the Kingdom to pay his respects after the death of Saudi Arabia's King Abdullah.
King Abdullah, 90, was succeeded by his half-brother, 79-year-old King Salman.