'The scariest things we've ever sold': Poundland launches Trump-themed attire for Halloween
We're gonna Make Halloween Scary Again folks and I truly believe that, what a holiday.
Stores all over the UK are now rolling out their Halloween merchandise, with pumpkins, witch hats and spooky spider webs filling shelves around the country.
This year, Poudland will add some American flavour to its costumes rack: Donald Trump apparel, complete with MAGA caps and masks of the US president.
When it was first announced Donald Trump would pay the UK a state visit earlier this year, Poundland launched an American line, complete with presidential attire, and "American selfie kits".
But The Donald's visit was eventually cancelled, and Poundland has had to improvise to get rid of their Trump goodies.
With Halloween just around the corner, the brand decided to given their stock a festive twist. In a statement, the brand invites shoppers to: "'dump Trump' in style." The company is hoping that its customers will help by buying what's left of the stock, using the hashtag PoundlandDumpsTrump.
"We reckon the only way to sell the products is to encourage shoppers to come up with unusual ways to use it," said Poundland's trade director Barry Williams.
The collection, called Limited-Edition Donald Trump includes cut-out masks of the 45th US President, red oversized "Trump" ties, golf balls, 'Make America Great Again?' pencil rubbers and Trump themed photo props – like his infamous blond quiff.
Star-spangled banner headbands and mini Donald Trump bobbing head figures are also included. Additionally, the range features Trump rosettes and Make America Great Again caps.
"Just wait until you see the Donald Trump masks, they're probably the scariest things we've ever sold," added Williams.
The range's reception has been mixed to say the least. Many shoppers failed to understand what Poundland was getting at, and questioned whether the goods were a form of endorsement.
One stoppers tweeted: "Doesn't feel like a great time to put yourself as a Trump supporter @Poundland #nazisout
Just last week, Poundland found itself in the middle of a controversy after rolling out chocolate- coated peanuts looking extremely similar to M&Ms.
The sweets, called "Nutters", displayed cartoon cross-eyed peanuts on their packaging. As a result, mental health campaigners demanded the company withdraw their "offensive" stock.
"We are saddened to hear that the item has caused offence," said a spokesperson for the brand.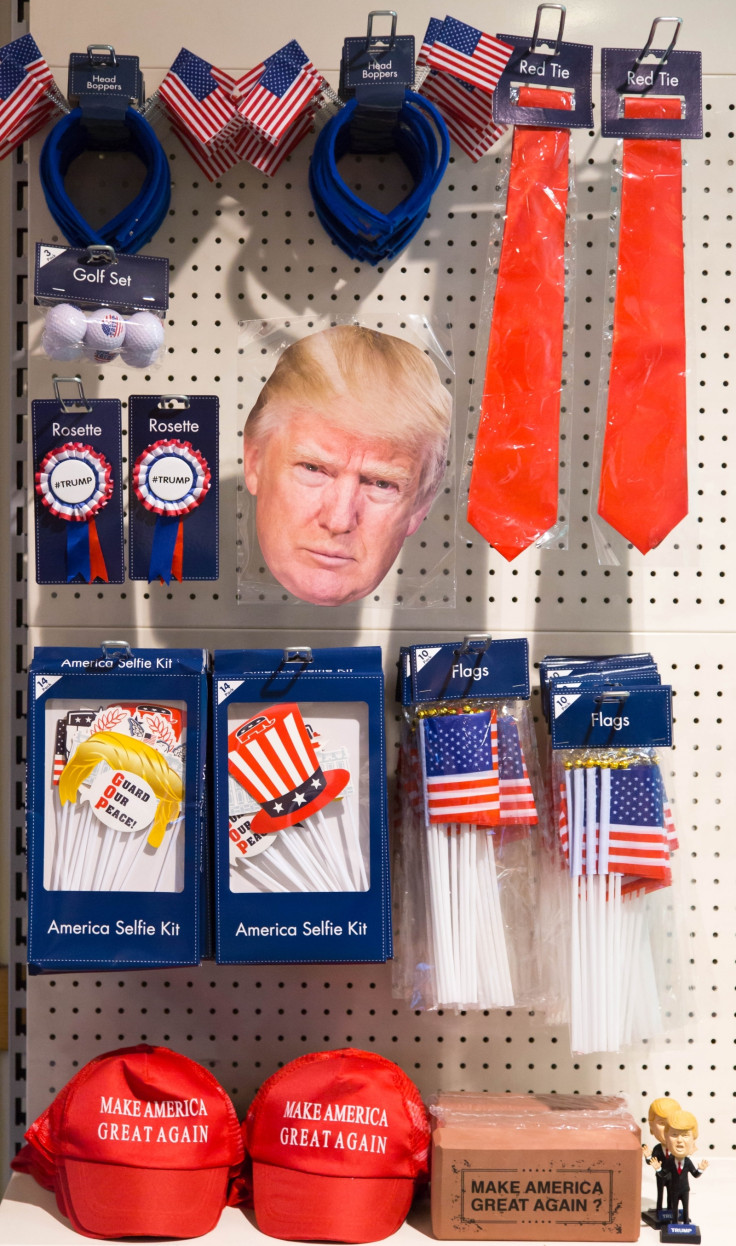 © Copyright IBTimes 2023. All rights reserved.