Avengers: Age Of Ultron actress Scarlett Johansson appears to have hinted at the reason for her marriage ending to Hollywood actor Ryan Reynolds and it is not pretty.
Discussing what it is like to date another actor in an interview with Parade, the 30-year-old admits competition can get in the way of the relationship.
Johansson told the publication: "Acting is a very strange world to be co-existing in. It's very volatile. There's always going to be the more successful person."
The Captain America star married Green Lantern actor Reynolds in 2008 but their seemingly perfect marriage soon crumbled and they divorced in 2011.
She added of Hollywood break-ups: "It's related to rejection. Because actors, if they're not having success, connect it directly to unpopularity - to the fact that nobody wants them. It's not necessarily true. I'm constantly rejected."
Over the years, the actress has dated several high profile men including actors Sean Penn, Jared Leto and Josh Hartnett, so it is possible she was also referencing her previous romances.
The former child star is now happily remarried to French journalist Romain Dauriac, whom she tied the knot with in October 2014.
Sharing her secrets to making a marriage work, Johansson explained: "[Marriage] takes a lot of work. It takes a man who's not only confident in the love that you have for one another, but confident in what he has going on in his own career.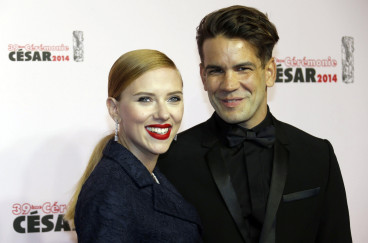 "He has to be in a field that's completely different from yours. My husband's also involved in art. What's important to him is the recognition that he gets from his job, and that has nothing to do with my job."
Johansson and Duriac have managed to keep their relationship very private over the last three years, but she happily shares their common interests.
The actress revealed: "We like to go out and go dancing. Other times, we like to sit at home and eat Thai food and watch House Hunters International for four hours. And we're interested in each other's worlds. He's interested in my weird, alien entertainment world.
"It fascinates him because it's so different than what he knows. And I like to go to art openings with him and talk about art and emerging artists with him. That's his passion."
The couple are also proud parents to a daughter, Rose Dorothy, whose birth was confirmed the month before in September.
Gushing about their first child, Johansson said: "The biggest joy that I have is looking at my daughter. When I'm just hanging out with her and we're doing silly stuff and if I make her laugh, the feeling of joy I have is explosive.
"If I can make her laugh and she gets a big smile on her face, that's pretty much it. If only you could actually bottle that and carry it around."
In addition to her family life and promoting the latest Avengers movie, Johansson is involved in a new campaign for the Feeding America organisation. In a PSA, the actress reveals that her family lived off food stamps while they were growing up.
"My family grew up relying on public assistance to help provide meals for our family. Child hunger in America is a real and often overlooked problem, but one that together, we can fix," she says in the clip.
Watch Johansson's PSA statement below: