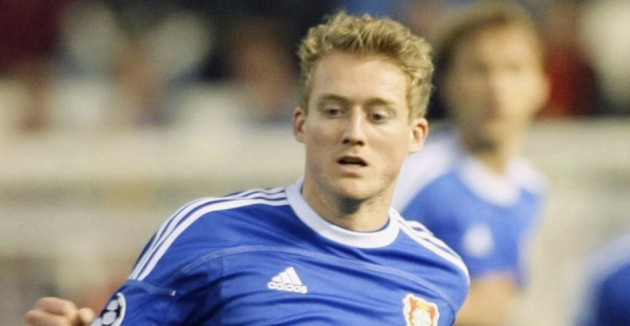 Chelsea have confirmed an agreement with Bayer Leverkusen has been reached over the signing of German forward Andre Schurrle.
The 22 year old will undergo a medical in west London before joining the Blues as Jose Mourinho's first signing since taking over for a second spell at Stamford Bridge.
Schurrle scored 16 goals in 45 appearances for club and country last season and will likely operate behind the main striker alongside Juan Mata, Eden Hazard and Oscar.
"Chelsea Football Club and Bayer 04 Leverkusen have reached an agreement for the transfer of André Schürrle, subject to the completion of legal documentation and related matters, including personal terms and passing a medical," a club statement read.
Leverkusen have meanwhile announced that Hamburg's Heung-Min Son will replace Schurrle at the BayArena ahead of the 2013/14 campaign, despite the South Korean being strongly linked with a move to Tottenham Hotspur.
The club's general manager Wolfgang Holzhauser added: "We made it clear from start that transfer of Schurrle to Chelsea would only happen if an alternative was possible."
While the Germany international becomes the first new addition of Mourinho's second reign in charge at Chelsea, he is the second new face to join this summer, with Brazilian Wallace set to become part of the first team squad after he agreed a deal to join the club in December from Fluminese.
Despite being rumoured to be a make-weight in the deal, Kevin de Bruyne will remain at Chelsea for the time being despite Leverkusen having previously confirmed that a deal to sign the Belgian youngster was in place.
Mourinho confirmed during his unveiling as Chelsea manager that both De Bruyne, who spent last season on loan at Werder Bremen, and Romelu Lukaku, who himself was on loan at West Bromwich Albion last term, would be involved in the first team next season.
"First of all I want to meet them. And I think it's fair that the players are the first ones to know about their future and to know about their future by their manager and their club and not by the media," Mourinho said.
"I can say that [De Bruyne and Lukaku] are the profile of player that Chelsea invested a lot in the past, and I think it's my work and my contribution to extract the best out of that investment, and I think both of them are ready to come and are ready to be part of our squad."