The Titan Crane in Scotland has been recognised as one of the world's engineering masterpieces with an international award from the American Society of Civil Engineers.
The landmark crane in Clydebank has joined the likes of the Eiffel Tower, the Sydney Harbour Bridge and Peru's Machu Picchu to win the International Historic Civil and Mechanical Engineering Landmark.
Built in 1907 for £24,600, it was designed by Adam Hunter, a Scottish engineer from the Glasgow-based firm Sir William Arrol & Co.
It is now one of only 13 left of its kind in the world after paving the way for similar cranes across the world.
The design of the crane, which included a fixed counterweight and electrically operated hoists, mounted on a rotated beam, meant it was faster and more responsive than other cranes at the time.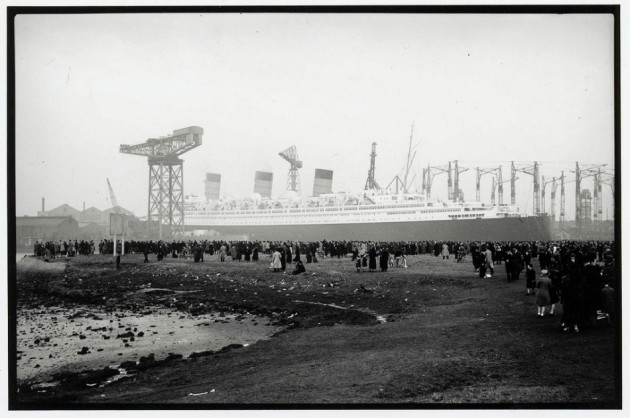 It could lift loads of up to 160 tonnes and Hunter's crane became the most widely adopted design in the world.
Andrew Herrmann, president of the ASCE, said: "The Titan Crane is a beacon among cranes as it influenced the development of many similar cranes across the globe. ASCE is honoured to join for the first time with three other engineering societies to designate the Titan as an international historic engineering landmark."
The Titan Crane, on the River Clyde, was used throughout Glasgow's shipbuilding industry over the last 100 years, being used to build ships such as the Queen Mary, Queen Elizabeth and the Queen Elizabeth 2.
Lyn Ryden, community board member of Clydebank Re-built and the Titan Clydebank Trust, accepted a plaque to mark the honour at a special ceremony.
"Today's designation of the Titan Clydebank as a world engineering landmark is a tremendous boost to our educational work here in promoting the proud heritage of shipbuilding and engineering on the Clyde," he said.
"Thanks to the Titan's lifting power, John Brown's shipyards were able to build some of the biggest ships in the world last century. The Titan is now sadly all that remains of the shipyards at Clydebank but this award puts the Titan on the world engineering map for today's visitors and future generations of young people."
Madiha El-Mehelmy Kotb, president of the American Society of Mechanical Engineers, added: "The Titan is a mechanical as well as civil engineering marvel, incorporating electric motors and aspects of structural design that became models for future cranes."