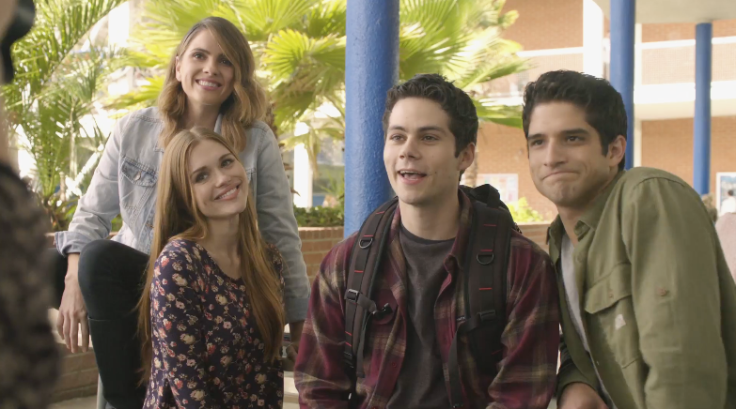 Things are not looking bright for Stiles Stilinski (played by Dylan O'Brien), who was erased from everyone's memories by the Ghost Riders in Teen Wolf season 6 premiere. Episode 1 also featured a tender moment between Stiles and Lydia where he professed his love for her.
"Just remember, I love you," Stiles told Lydia, before a ghost rider pulled him out of his jeep, and he was gone alongside his memories. The upcoming Teen Wolf episode will feature Scott, Lydia, and Malia searching for lost memories of Stiles.
Episode 2 of season 6 titled, Superposition, will air on 22 November at 9pm ET/PT on MTV Network.
The official synopsis reads as follows:
While Scott, Lydia and Malia search for lost memories of a missing friend, Corey discovers a connection between his abilities and the Wild Hunt.
Jeff Davis spoke to Hollywood Life about the "profound effect" that Stiles had on everyone's lives and how the gang will figure out that he's missing. Davis explained, "For each of them — for Scott, Malia, and Lydia — Stiles has had a profound effect on their lives, and when he goes missing, there's a massive loss in their lives. They each feel it. You can't just erase someone from your life as much as the Ghost Riders try. Each of them will begin to feel that loss and begin to feel some missing part of themselves, because the people we meet and people who have a profound effect on our lives stick with you."
Teasing a great scene in episode 2, the showrunner said, "There's a great scene in episode two where Scott, Malia, and Lydia all come together to kind of discuss what's missing in their lives. That's the power of a person to impact your life. That's very much along the themes of the season. How your friends and the people you love are really an indelible part of your lives and can't be erased.
The producer also revealed a callback to season 1 in the 22 November episode. He said, "Well, I'll tell you something happens at the end of the second episode that is a callback to the first season of Teen Wolf. It's a fun callback, so there's a little surprise in there for fans who have seen all the season?