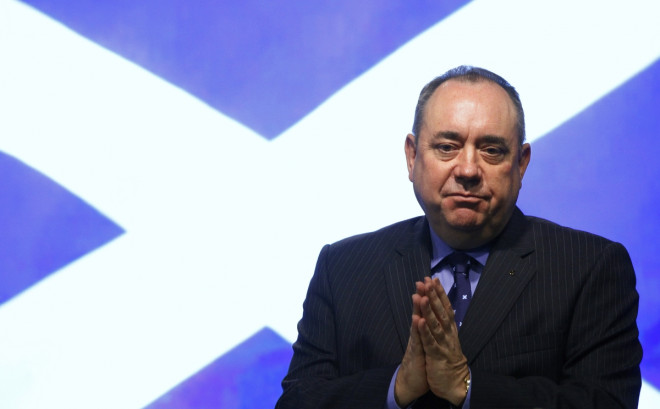 Scotland's fiscal deficit widened sharply during the 2012/13 financial year in another headache for the pro-independence campaign ahead of the September referendum.
According to the Government Expenditure & Revenue Scotland (Gers) report for the year, the country's fiscal deficit rose to 8.3% of GDP – up from just 5% the year before.
That includes a geographical share of revenue from North Sea oil and gas fields and compares to a fiscal deficit of just 7.3% for the UK as a whole.
Alex Salmond, leader of the Scottish National Party (SNP) and the country's first minister, dismissed the rising deficit as the result of lower tax revenues because of tax-deductible North Sea investment and stoppages in production because of unforeseen maintenance issues.
"Despite these factors, Scotland's net fiscal deficit was only one percentage point higher than the UK figure in 2012-13," said Salmond, who said oil and gas production was forecast to rise 14% between 2013 and 2018.
"Where we have the powers the Scottish government is doing whatever we can to build a more secure future for the people who live here - prioritising investment and taking decisions that will pay off for the long-term," he said.
"The coming referendum presents an opportunity to ensure that the key economic decisions are taken in Scotland for Scotland. Having responsibility for our own finances and our own vast natural resources would allow us to make choices in our own best interests."
A study published by the National Institute of Economic and Social Research (NIESR) claims an independent Scotland faces years of austerity if it is to get its public finances in check.
Scotland's long-run fiscal gap – the difference between expected future revenues and spending – would be more than double that of the UK's at 1.9% of GDP in the most optimistic projection.
This gap would have to be plugged with spending cuts and tax rises on top of those already planned by the UK government.
"This more difficult long-run outlook arises for two reasons," said the paper by Rowena Crawford and Gemma Tetlow of the Institute for Fiscal Studies (IFS).
"At the moment public spending per person is significantly higher in Scotland than across the UK as a whole, mainly as a result of higher spending on public services (rather than higher spending on benefits). In 2011–12, this was more than matched by greater revenues from oil and gas.
"However, this has not always been the case in recent years and certainly will not be the case going forwards if Scottish spending levels are not changed, as eventually oil and gas reserves will be depleted and this source of revenues will dwindle."