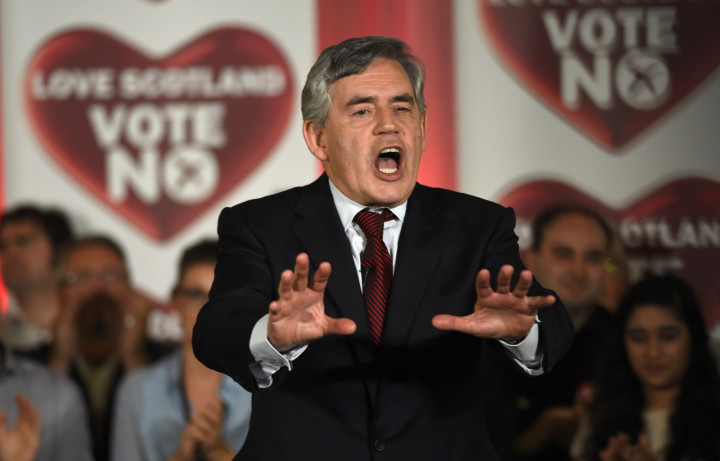 The anonymous City trader who gambled £900,000 on a "No" vote at last week's Scottish independence referendum predicted a late intervention from Gordon Brown would swing it the Unionists' way.
William Hill paid out £1,093,333.33 to the man who placed the huge wager in increments hoping odds on a "No" vote would improve as 18 September loomed.
After meticulously researching ramifications of Scotland's walking away from the Union and looking at Canada's 1995 referendum, the punter said even a surge in "Yes" votes didn't unnerve him.
"When the polls showed the 'Yes' campaign in the lead, my wife did come in with the newspapers and said: 'Now what?'" he told BBC Radio 2.
"But a surge by the 'Yes' vote was in my predictions, followed by the subsequent bargaining, promises of more powers and the unleashing of Gordon Brown.
"It meant that even on the night of the vote I wasn't nervous."
More than 55% of voters voted "No" at the ballot box last week while "Yes" managed 45% from a turnout of 85%.
SNP First Minister Alex Salmond announcement he was stepping down in the wake of the defeat, which came after Westminster promised Scots greater powers would be devolved to Holyrood.
Explaining the wager, the winner, who despite the huge outlay made £200,000 in profit, described it as "responsible gambling" and relied upon his financial career to project risk.
"This was not a reckless gamble. Losing this money would have seriously hurt," the married man added.
"But I wouldn't have lost my house - although maybe my wife would have had something to say about it.
"I'd call it responsible gambling. And my main advice would be 'don't try this at home'. But I'd prefer to call this a reasoned wager. For me, it was almost an investment."