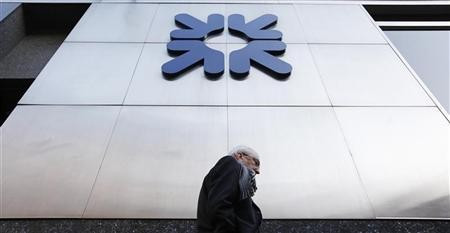 The Royal Bank of Scotland's boss has revealed that he has not yet spoken to Britain's business secretary Vince Cable about relocating the bank's head office to London, in the event of Scotland voting for independence.
Earlier this month, Cable warned that RBS headquarters would have to move from an independent Scotland, to be protected in event of collapse.
Ross McEwan also said that he would "adapt his business", in the event of Scotland voting to break away from the rest of the UK, in the September referendum.
"It's really important that the Scottish people get the opportunity to vote, and then if I need to adapt my business to serve England, Scotland, Wales and both the Republic of Ireland and Northern Ireland, then I will. Mr Cable and I have not talked about moving our head office," said McEwan in a Q&A on the website of the Guardian newspaper, where he recently self-penned an article.
RBS received a taxpayer funded £45bn (€54bn, $73bn) bailout in 2008 and is still 81% owned by the government as privatisation plans keep getting pushed back.
Cable said: "I think if you were managing RBS you would almost certainly want to be in a domicile where your bank is protected against the risk of collapse," said Cable.
"I think they already have a substantial amount of their management in London and I would have thought that inevitably they would become a London bank."
Scottish people will vote in an independence referendum in September this year and will be asked the straight "yes/no" question: "Should Scotland be an independent country?"
McEwan's comments follow closely after Barclays chief Antony Jenkins said that the lender can survive and work in Scotland if the country votes "yes" for independence.
Lloyds Banking Group also told IBTimes UKthat the bank "firmly believes that questions about Scotland's future constitutional position are a matter for the people of Scotland and the UK and Scottish parliaments."