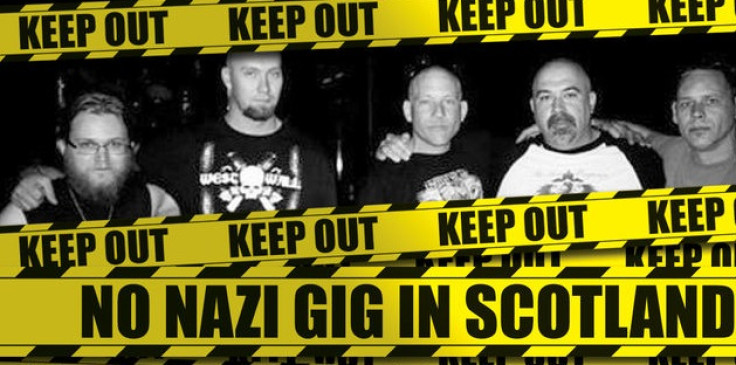 A neo-Nazi concert believed to be Scotland's largest ever "white power" gig has been cancelled following pressure from anti-racism campaigners, a charity has said.
More than 500 skinheads from across Europe were expected to descend on or around Edinburgh next Saturday (22 October), to hear one of the United States' most prominent white power bands, Bound for Glory, linked to "Nazi network" Blood and Honour.
Hope Not Hate, an anti-racism charity championed by the family of killed MP Jo Cox, said the event would have posed a "clear threat" to minority communities in the city, and had urged Home Secretary Amber Rudd to block the band's entry to the UK.
It said: "At a time when racist attacks are on the increase and many Blood and Honour supporters have been imprisoned for their involvement in a riot in Dover earlier this year, hundreds of drunken Nazis on the streets of Edinburgh is the last thing the city needs."
Scotland's Justice Secretary, Michael Matheson, also wrote to Rudd echoing the charity's concerns and said he was "considering every option" to stop the gig from going ahead. More than 1,700 people had also sent letters to their MPs and MSPs.
But on Sunday, Hope Not Hate announced the gig had been cancelled, with organisers complaining of "adverse media attention" and the likelihood that the US band members would be refused entry into the UK.
Nick Lowles, of Hope Not Hate, wrote on the charity's website: "I have great news. The Nazi gig in Falkirk has been cancelled. We have won."
He continued: "While obviously we will remain vigilant to ensure that [the organiser] is true to her word, we can celebrate a huge victory for people power.
"Huge questions remain about the role of Police Scotland, who, we know, have been in full knowledge of the gig details for some time and appeared ok with the event going ahead."
It is the second time the thrash-metal group has been prevented playing in the UK, the charity said. A planned gig in the mid-1990s was reportedly cancelled under similar pressure – a measure the band's lead singer later blamed on a "Zionist" British government.
Lowles said the planned gig came amid a "resurgence" of Nazi-inspired music in the UK. Last month about 350 people attended another white supremacist gig in the village of Haddenham in Cambridgeshire.
Police allowed the event to go ahead after believing it was a fundraiser for the charity Help for Heroes.