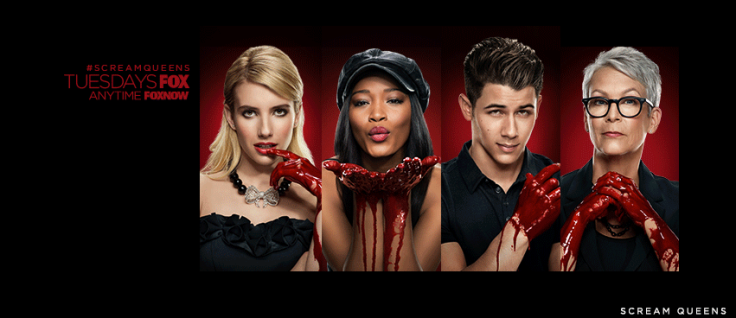 The Red Devil is terrorising the students at the Wallace University in Scream Queens and each episode bring a character into the spotlight who is suspected as the face behind the serial killer. In Episode 4 of the Fox thriller, Lea Michele's Hester will grow smarter after abandoning her neck braces for good and getting a glamorous makeover as she will join the sorority's sisters.
Not only will Hester say goodbye to her painful look, she will also fall for Chanel's ex-boyfriend Chad. The promo of the fourth episode reveals that the naive-looking girls cannot be underestimated as she plans to snatch the throne from Chanel, the queen of the Kappa Kappa Tau sorority house.
"I have this awesome storyline with Glen Powell who is Emma's boyfriend, Chad. It's this very screwy love triangle. Hester's a little obsessed with him. I get the scripts, and I'm like, I can't believe I'm going to say this," Michele told Variety.
Amidst all the envious politics, the killer is still roaming free and is not leaving any stone unturned in order to terrorise the girls. The situation will force the Dean to do everything she can in order to keep the university open. But will she succeed as now the sword of suspicion is hanging over her.
The series has already killed a lot of characters in just three episodes (including Ariana Grande's Chanel #2) but the question of 'who done it' still remains unanswered. In the upcoming episode titled 'Haunted House', Dean Cathy Munsch (Jamie Lee Curtis) will come under the radar of doubt as many will find her having clear motive behind the deaths ( her hatred for KKT).
The official synopsis of episode 4 reads:
As Halloween approaches, Chanel creates a devious plan after Zayday makes a shocking announcement. Meanwhile, Grace and Pete pay a visit to a mysterious woman with ties to Kappa's past. Also, Hester grows closer to Chad, Denise continues her search for the red devil killer and Dean Munsch does everything in her power to keep Wallace University open.
Scream Queens episode 4 will air on Tuesday, 6 October on FOX network.
.