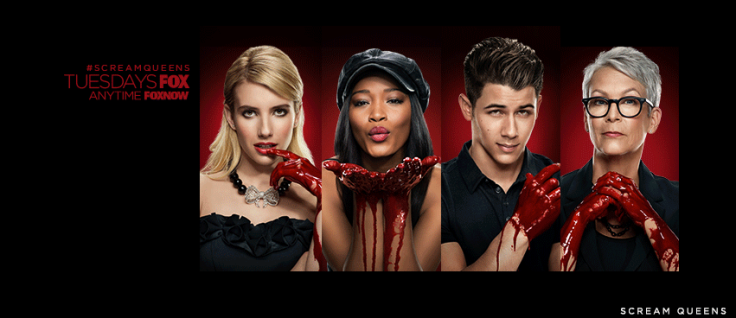 Ariana Grande's character was stabbed to death by the Red Devil in the Scream Queens premiere episode. Dean Munsch thinks that one of the inmates from the Kappa Kappa Tau (KKT) is the killer. After three murders in the premiere, more deaths are expected in the third episode which is titled Chainsaw.
The ruthless sorority president Chanel, meanwhile, will be busy planning her next project and she will find it in the neckbrace-clad Hester. Dean Munsch will find the KKT president suspicious as the latter was against the house being open to anyone who wanted to take the pledge.
The dean of Wallace University will start an investigation into the series of murders and will appoint Chad and Earl Grey to unmask the serial killer who is now referred to as the Red Devil. "It's a 20-year conspiracy of revenge that has been plotted and planned and it's all coming to a head this year at Kappa," show creator Ryan Murphy told EW.
Co-creator Brad Falchuk teases that the mystery of the killer goes back in time and will be linked to the murder that took place during the opening scene after which the show moves to 20 years later. "We're designing it so that when everything is revealed it will all have been lined up in a way that you won't need much to explain it," he told the website.
The synopsis of episode 3 reads: "Chanel's latest project is Hester; Chanel #3 has a confession to make; and Grace and Zayday notice a startling connection between two fellow students. Meanwhile, Denise goes gunning for a Kappa; Dean Munsch appoints a new mascot; and Chad and Earl Grey muster the fraternity to go on a witch hunt for the Red Devil."
Scream Queens will return with episode 3 on 29 September (Tuesday) on Fox. In case you miss the episode during its airing time, click here to watch it online.