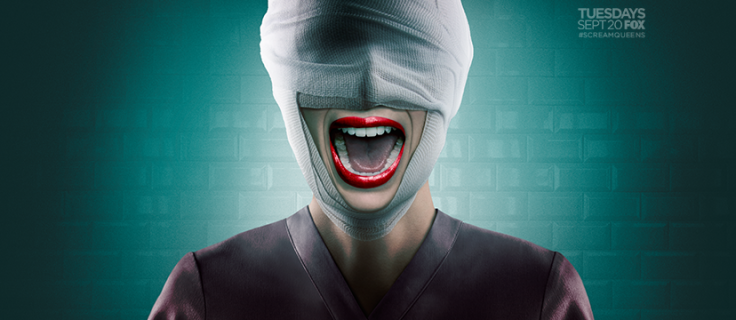 Fox has released a teaser for Scream Queens season 2 which features all the major cast of the show. The 47-second clip revealed the first look of Emma Roberts, Lea Michele, Keke Palmer, Jamie Lee Curtis, Abigail Breslin and the latest addition to the show Taylor Lautner and John Stamos.
One scene from the teaser shows a steamy kiss between Roberts' Chanel and Lautner's Dr Cassidy. The scene hints at some steamy romance in the hospital, between the two major characters. Cassidy can be seen pulling a stretcher on which Chanel wearing make-up is seen in an unconscious state. Cassidy then leans forward to kiss the "patient". Previously, Roberts teased that there would some romance brewing between her character and another hot doctor, possibly Cassidy or Brock.
The next scene shows Chanel wake up from the stretcher and sees Hester wearing a Hannibal Lecter mask. However, it was not clear what will be the equation between Robert and Michele's characters.
The Twilight saga actor's character will be a prime suspect in the Ryan Murphy-directed horror comedy series. According to the synopsis of season 2, Dean Cathy Munsch will leave Wallace University behind for good and open an eerie hospital.
She will not only hire the former serial killer Hester (played by Michele) but will also bring back Chanel and her minions from the mental asylum to help her manage the hospital where the brilliant yet secretive Dr Brock Holt (Stamos) is the head doctor. The hospital will come in the spotlight after a series of gruesome murders and everyone inside it will be a suspect.
Michele shared the teaser on her Twitter account and captioned the video with "We're back.. Get ready for season 2 in September."
It remains to be seen how the story of the hospital unfolds after the creepy murderous drama from the Kappa Kappa Tau in season 1. Scream Queens season 2 will premiere on Fox on 20 September.