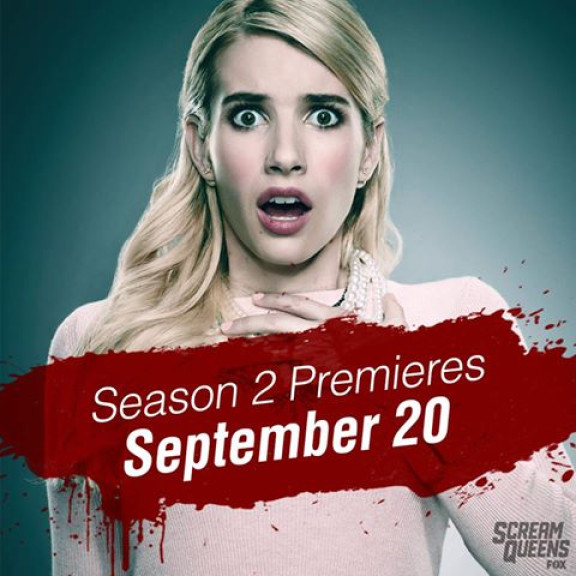 Chanel and her minions will return for another creepy season of Scream Queens, which will have a hospital as the central theme. The show will introduce a new set of characters (doctors) in the show and has roped in major names including Twilight actor Taylor Lautner or Grandfathered actor John Stamos.
Emma Roberts, who plays the popular character Chanel Oberlin in the series, has teased her romance with one of the two attractive doctors in the show. She appeared on Bravo's Watch What Happens Live with Andy Cohen and spoke about her character's romantic future in the weird hospital. Stamos will play a brilliant and mysterious head surgeon of the new hospital owned by Cathy Munsch.
"Any idea if either of them will be your live interest?" Cohen asked her in the show. "Yes! One of them is," she said adding, "I don't know if we always do things appropriately over there. Honestly, I'd be happy with either of them or both of them."
Meanwhile, Glen Powell, who will return to reprise his role as Chad Radwell in the series, has teased a naked scene featuring him and the Fuller House actor. "All I can tell you is that I read a scene where John Stamos and I are not wearing clothes," he told E! News and jokingly added that he is planning his diet to look better than Stamos in the scene. "So I have to figure out my diet. I should probably not have a carb for a second because I don't want John Stamos to show me up."
In a separate interview with Moviefone, the 27-year-old American actor, teased "style and sex appeal" in the first two episodes of the Ryan Murphy directed show. "I literally just read the first two episodes on the train. It is fresh on the brain. I've got to say, what's really crazy is I think this could be a better season.
"It feels very much like the sorority aspect of the Greek system was very fun and it has a certain amount of style and sex appeal to it that I thought was really, really fun. But I've got to say, this takes place at a hospital for like weird diseases and things like that. Where, inherently, terrible people that you saw in that other season, I feel like can thrive in an even better way."