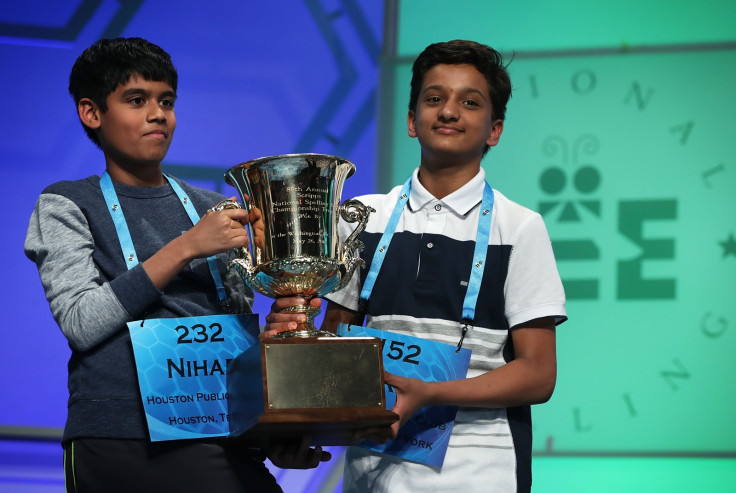 Thirteen-year-old Jairam Hathwar and eleven-year-old Nihar Janga were declared co-champions of the Scripps National Spelling Bee 2016 held on 26 May (Thursday) at the at Gaylord National Resort and Convention Center in Maryland. This is the third year that the final leg has ended in a tie.
The words that clinched the championship for Jairam was "Feldenkrais" – the name of a somatic educational system – while for Nihar it was "gesellschaft" – which means a world for social relations based on impersonal ties as duty to a society or organization – the Guardian reported.
"It was just insane," Jairam said as he held the trophy. He is the younger brother of Sriram Hathwar, who was the co-winner of the championship in 2014.
On the other hand, Nihar said, "I'm just speechless... I'm only in the fifth grade." At 11, Nihar has become the youngest winner of the bee on record, USA Today reported.
The championship rounds lasted longer and the words given to the contestants in the final round were harder. The final two spellers had to take thrice as many words compared to last year, to avoid another consecutive tie officials said.
The competition began on 24 May with 284 contestants, out of whom only 45 remained until Wednesday evening. By Thursday afternoon, only 10 contestants progressed. These included students from New York, Texas, California, Massachusets, Colorado, Indiana and Florida.
In 2014, Asun Sujoe and Sriram Hathwar were announced co-champions as their contest ended in a tie. Last year again, Vanya Shivshankar and Gokul Venkatachalam were the joint-winners.
The winners take home a trophy and a cash prize of $45,000 each.