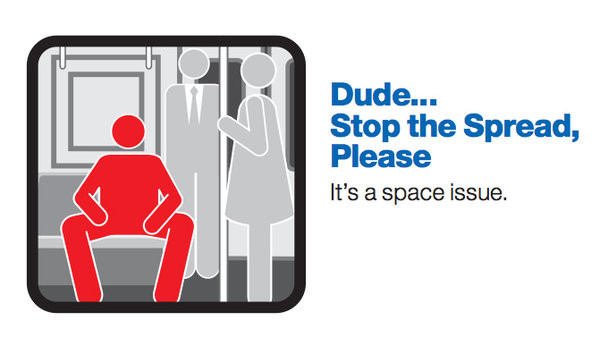 Officials in San Francisco are considering fining commuters who take up more than one seat on public transport such as the so-called "manspreading" male passengers who open their legs wide to take up extra room.
The Bay Area Rapid Transit (BART) agency, which shuttles more than 420,000 customers each weekday in San Francisco and its suburbs, is considering the crackdown on so-called "seat hogs" because the service is becoming increasingly crowded as more residents flood into the area for hi-tech jobs.
The proposal, by BART director Joel Keller, would exempt people whose size or medical condition requires them to occupy more than a single space, the San Francisco Chronicle reports
The first offence would cost a passenger $100 (£70), with repeat offenders hit by $500 (£352) fines.
While BART is thinking of fines, the New York City subway system has already posted a series of "Courtesy Counts" signs criticising rude behaviour on mass transit. The signs tell passengers not to swing around poles on a subway car, not to apply make-up on a crowded train, and not to take up extra room with a bag or by manspreading, a common problem on the subways.
"Dude ... Stop The Spread, Please," urge the signs.
Transit systems in Seattle, Philadelphia, Chicago, Boston and other cities have also rolled out signs and slogans reminding passengers to limit themselves to one seat.
Seattle uses a cartoon of an octopus to keep riders in line.
"We feel like this has been an effective way for us to get the word out on what good manners are in transit," Bruce Gray, spokesman for the Seattle transportation agency Sound Transit, told the Guardian. "Whether or not people who are the worst offenders are actually seeing this stuff, I don't know."
Keller said he was motivated to draw up the rules when he boarded a train and found a sleeping young man sprawled out over four seats. He realized that even if he summoned police, all they could do would be to rouse the seat hoarder and ask him to sit up.
"In the past, when we had plenty of seats, it was not as serious an issue as it is today," Keller told the Chronicle. "But with ridership growing and seats becoming a much more desirable commodity, we have to make sure they're available."
A Twitter worker from Vallejo hopes the new rule would open up a few more seats for weary commuters.
"The trains get crowded and people coming home from work just want to sit down," he said. "It's not fair for somebody to take two seats just because they think they're more important."