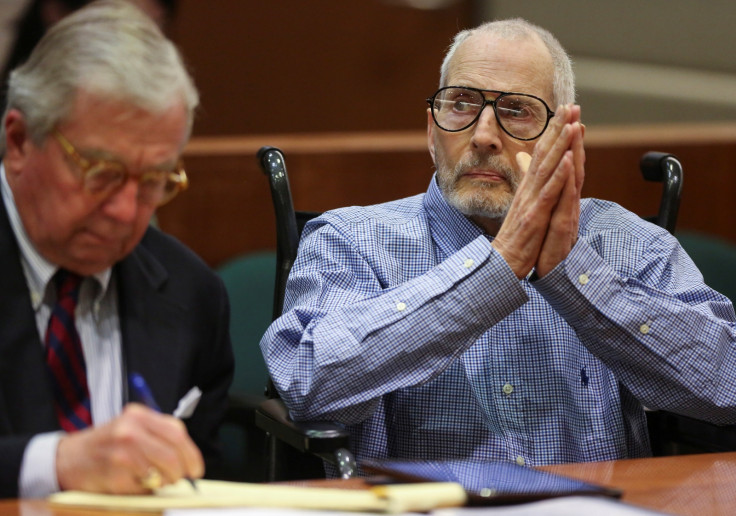 The secret witness in Robert Durst's murder case was revealed on Wednesday (15 February) to be Nathan "Nick" Chavin. The 72-year-old witness, who is a longtime friend of the real estate mogul and the woman Durst is accused of murdering, appeared in Los Angeles' Airport Courthouse with two bodyguards.
Chavin and two other witnesses were questioned months before the preliminary hearing which is set for October. Prosecutors claim they have uncovered evidence showing a "possible danger" to Chavin's life, The Los Angeles Times reported.
The witness referred to Durst during his testimony, noting the years of friendship between the two men. Chavin called the suspect his best friend and was a best man at his wedding.
According to The Times, Chavin testified he had spoken to Durst's wife Kathleen "Kathie," who described her husband as "impossible" and said she feared he would physically hurt her.
Chavin also described moments when Durst had violent outbursts, including a time he kicked a man's head.
Chavin, who worked as an advertising executive in New York, is the former boss of Susan Giordano, who was the second witness called to testify.
She revealed that the New York real estate mogul gave her more than $300,000 (£240,000) within days of being arrested in New Orleans in March 2015 in connection with the murder of Susan Berman. Giordano told the courthouse that Durst also discussed building a "love nest" with her.
The witness said she and Durst spoke several times a week after he was arrested in connection to Berman's 2000 killing.
Giordano told Los Angeles County Deputy District Attorney John Lewin that the two planned for Durst to move into a property near her home in Campbell Hall, New York. According to the NY Daily News, Giordano would have an art studio in the building and the 73-year-old would live there.
Durst's friend also reportedly told him she loved him but claimed in court that their relationship was not sexual. "It is platonic," she said.
Giordano's questioning comes as part of an ongoing dispute over boxes of Durst's personal paperwork which were seized by authorities from Giordano's Hudson Valley basement in 2015.
Durst was arrested by FBI agents on 14 March 2015 at a New Orleans hotel. The subject of HBO's The Jinx was discovered with guns, a fake ID, stacks of money and an old-man mask, the Times reported. Two days later he was charged with Berman's murder.
A New York doctor testified on Tuesday (14 February) and discussed a 35-year-old phone call he received from a woman claiming to be Durst's wife. Prosecutors claim Durst first killed his wife and then shot Berman in the back of her head nearly 20 years later for knowing too much.
A preliminary hearing is set for October, which means Durst is unlikely to face a murder trial until at least 2018.