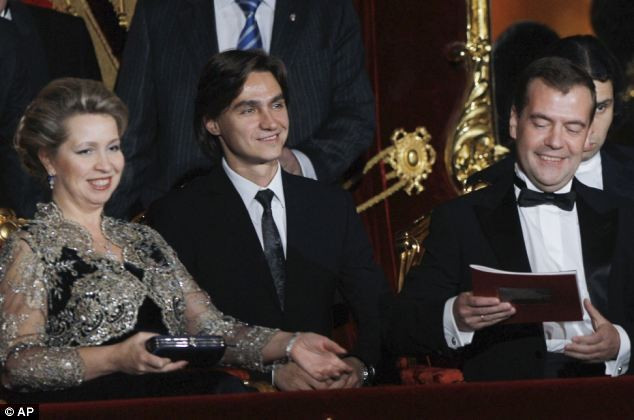 The artistic director of Russia's prestigious Bolshoi ballet has been severely injured after a masked man threw acid in his face in a central Moscow street.
Sergei Filin has undergone emergency surgery to replace a burnt cornea, according to Russia Today reporter Alexey Yaroshersky.
The 42-year-old suffered third-degree burns across his face and neck and was rushed to a specialist clinic in Brussels in the aftermath of the attack.
The attack comes after weeks of threats and intimidation against him, according to his family.
The former ballet star said the attack occurred near the gate of his apartment building. The attacker called him by name before throwing the substance in his face, Filin said.
"I got scared. I thought he was going to shoot me. I turned around to run, but he raced ahead of me," Filin told Russia's REN TV.
Doctors are now fighting to save his sight, Bolshoi spokeswoman Yekaterina Novikova said.
Filin had been returning from an evening commemorating the 150th anniversary of the director Konstantin Stanislavsky's birth, according to the Russian tabloid Life News.
CCTV footage showed the hooded attacker fleeing through a snow-filled car park after the attack. Only his eyes had been visible, said Filin.
Filin's mother, Natalia Filina, said she knew who ordered the attack. "I know who this person is and will definitely tell law enforcement agencies," she told Life News. "My son was threatened on the phone, particularly in the past month. He was followed. And today it all reached its peak.
"What's important to me now is the health of my son, that he not lose his eyesight. He's holding up, but he's in a lot of pain."
Some dancers have complained publicly that Filin treated them unfairly. Anatoly Iskanov, the Bolshoi's general director, urged police to concentrate their inquiries on "those who wanted to compromise the theatre".
He said Filin had mentioned the threats against him when they met earlier on the day of the attack. Filin said he thought he was being followed, Iksanov said. "He said, 'I have a feeling that I am on the front lines','' Iksanov told state-run Channel One TV.
Tyres slashed
The attack is likely to have been motivated by envy or rivalry, Iksanov suggested. "This two-week campaign has ended tragically and despicably," he said.
Bolshoi staff suspect Filin is the latest victim of the "civil war" being fought between rival dancers and managers at the theatre, Novikova told Channel One. She said Filin's tyres had been slashed several times recently, and that his email and Facebook page had been hacked.
Former director Gennady Yanin was forced to step down in 2011 after erotic photos of him were leaked on the internet, and in 2003 ballerina Anastasia Volochkova was dismissed by then-director Anatoly Iksanov, who said she was overweight.
"We never imagined that a war for roles - not for real estate or for oil - could reach this level of crime," said Novikova.
Ekho Moskvy radio said doctors believe it would take Filin at least six months to recover. Bolshoi principal dancer Svetlana Zakharova fought back tears as she said: "We've just realised that the job of a Bolshoi Theatre director is very dangerous one."
Filin danced at the Bolshoi from 1988 to 2007, before being appointed artistic director at the Stanislavsky and Nemirovich-Danchenko theatre, Moscow's second ballet company. He returned to the Bolshoi as artistic director in March 2011.
There was "fierce rivalry" for the job at the time, according to Russian news agency RIA Novosti.