Notorious British serial killer and paedophile Robert Black revealed he lured children to their deaths by promising them kittens, newly released voice recordings reveal. Black was convicted of murdering four young girls, but is believed to have killed up to 40 victims.
Audio set to be broadcast for the first time reveals how Black would have killed 13-year-old Genette Tate, who was kidnapped as she delivered papers in Aylesbeare, Devon in 1978. Black, the prime suspect in Tate's case, died of a heart attack before he could be charged in her murder.
In a series of interviews he discussed his crimes and hinted he may have murdered as many as 40 victims, the Sunday Express reported. The clips, from a 1990 interview with sex offender counsellor Ray Wyre, are featured in the first episode of the CBS Reality documentary series, Voice of a Serial Killer.
At the time of the interview, Black was serving life for attempting to abduct a six-year-old in Scotland and had not yet been charged with any murders. Black's defence team brought in Wyre in an attempt to reduce his sentence.
MailOnline noted that while he had not been charged with murder, he was widely believed to have killed Tate and others.
Black, who told Wyre he often thought of the girl, was asked what he would do if he wanted to abduct her. When asked by Wyre how Tate's murder could take place, Black answered: "Well, they found her bike didn't they?"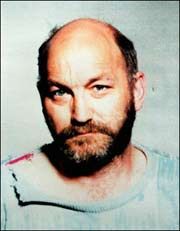 He laid out a scenario closely matching the authorities' theory for how Tate was killed. "He's obviously either persuaded her to get off her bike or grabbed her off the bike. One of the two. Then got her into a vehicle and took her away."
Black continued: "If I had seen a paper girl, I'd maybe park and watch for a while to see what sort of route," he said. "Getting myself into a position where it would be possible to take somebody."
Black was captured in 1990 as he was seen snatching the six-year-old daughter of a local policeman in Stow in the Scottish Borders. According to the Express, Black bundled the girl in the back of his Ford Transit van, but was pursued by her father, who found her gagged and stuffed inside a sleeping bag.
During the investigation, detectives searched through 560,000 petrol receipts that Black had collected and pinpointed his whereabouts to other child abductions and murders.
Black was later jailed for the abduction, rape and murder of nine-year-old Jennifer Cady from County Antrim, Northern Ireland in 1981; 11-year-old Susan Maxwell from Northumberland in 1982; five-year-old Caroline Hogg from Edinburgh in 1983; and 10-year-old Sarah Harper from Leeds in 1986.