Documents listing Prime Minister Theresa May's travel plans were left behind on a train in a serious security breach, it has been revealed.
Downing Street launched an investigation after a passenger found the documents which outlined travel arrangements for the PM, the Telegraph reports.
In addition to detailing a visit to the North-west, the documents listed the address of the hotel that May was booked into to work from during that afternoon.
They also gave details of plans for a call to Nato Secretary-General Jens Stoltenberg and arrangements for a party treasurers dinner in Altrincham, Cheshire.
According to the newspaper, the documents were found in the first class carriage of a train heading towards Edinburgh. They were handed to the Daily Mirror.
A government spokesman said: "We have been made aware of claims around a government document and will investigate accordingly."
May flew from RAF Northolt in West London to Manchester before visiting a science park in Warrington for the 23 January visit.
She was then to travel by car to the Mere Hotel in Knutsford and fly back to London after dinner.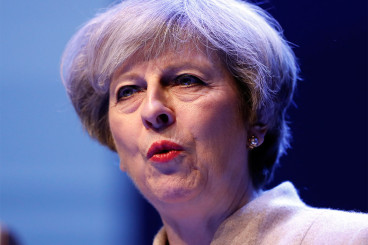 A former royal bodyguard, Insp Ken Wharfe, told the Telegraph: "In today's environment, it becomes a serious security matter when documents like this detailing the hourly movements of a protected person are misplaced.
"That's just not acceptable.
"Theresa May is given this protection because she is a target and so, of course, this is a serious security risk.
"Had such information reached potential terrorists it could serve to confirm their plans."