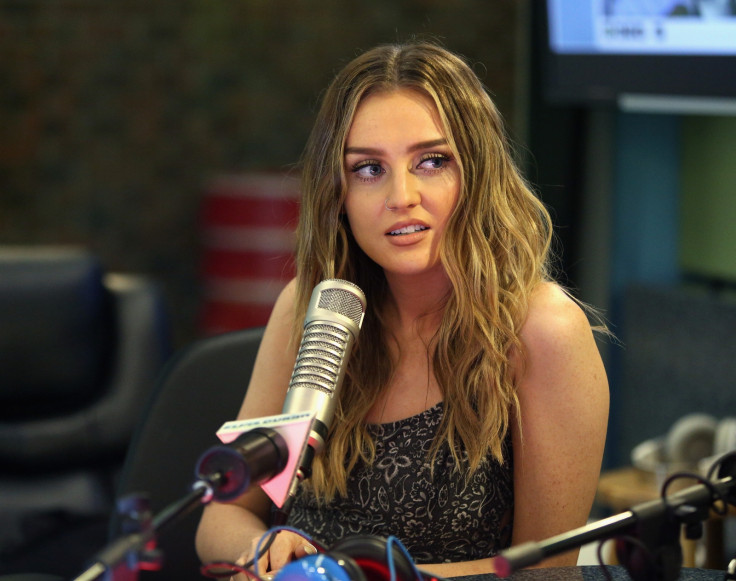 Perrie Edwards has certainly made an impression with her latest Instagram post. Thanks to a candid photo of her bum, fans are accusing the Little Mix singer of either Photoshopping her behind to make it appear bigger or even having cosmetic surgery such as a butt lift.
The Shout Out To My Ex singer is currently on a beach holiday with her boyfriend, Arsenal footballer Alex Oxlade-Chamberlain. Taking a break from their romantic getaway, Edwards, 23, posted an Instagram photo of herself sitting on a swing in the sea with her bum partially exposed in a white bathing costume. The caption reads: "My boy got views."
Almost immediately, the singer's followers flooded the comments section with accusations that Edwards had enhanced her bum – either digitally or surgically. One questioned: "How did that get so big?" while another claimed: "Sorry but it looks like photoshop." A third stated: "Seriously looks fake that butt ain't real," while another wondered: "Did she get butt surgery?!"
Some even compared Edwards' figure to those of reality TV sisters Kim Kardashian and Kylie Jenner, who are known for their curvy bums. One sceptic commented: "It's photoshopped... even kim k doesnt have this a*s," while another weighed in: "She wishes her a*s were that thick and her waist that small!! You ain't Kim or Kylie." One other said: "Why does it look like kim k's a*s??"
In the absence of a comment from Edwards, the pop star was defended by a slew of fans who suggested it was simply the angle in which she was sitting. A supporter waded in: "Her a*s looks the same as it was two photos ago. It's just that she's sitting and her back is probably arched. So stop with these lame a*s comments."
Another who carefully analysed the photo added: "She's arching her back and her a*s isn't fully in the swing to make her a*s look bigger...not photoshop," while another offered: "Plus, not every big butt is fake you know. People can have that size without surgery. I just hate it that nowadays people get shamed for being 'fake' when they're really not."
It comes just weeks after Edwards was praised by fans for confidently showing off a large scar on her stomach, which she received after undergoing surgery during her childhood.
In a 2015 interview with Fault magazine, Edwards spoke about being a role model for Little Mix's young fans and the double standards between genders in the music industry. The singer said: "We don't think it's fair that women get scrutinised more than men. Everything is harder for a woman in every kind of aspect and that's why we try to empower women with our music, our image and everything we stand for."