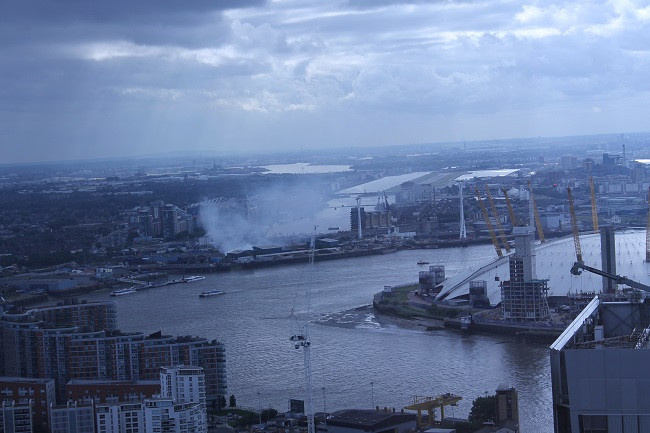 Thirty five firefighters are still battling to bring a huge blaze under control on an industrial estate in Canning Town after 400 tonnes of recycling waste caught fire last night.
Residents have been advised to keep their doors and windows closed as plumes of smoke continue to drift over from the recycling warehouse on Scarab Close, near the Lower Lea Crossing.
Seventy firefighters attended the scene at the height of the fire, which began at 12.28am. The London Fire Brigade's boat also provided assistance.
The cause of the fire is not known at this stage.
Station Manager Paul McClenaghan said: "An eight metre stack of about 400 tonnes of domestic recycling materials is on fire. Crews are working hard to bring the blaze under control and to stop it from spreading to neighbouring buildings on the industrial estate.
"We're making steady progress but the fire is producing large plumes of smoke which are drifting so any residents who are affected are advised to keep doors and windows closed."
Four contingency fire crews were mobilised to take over from London Fire Brigade firefighters this morning while they took part in the Fire Brigades Union industrial action.
The contingency crews remained at the scene until the end of the strike period at 8am, when London Fire Brigade crews returned.