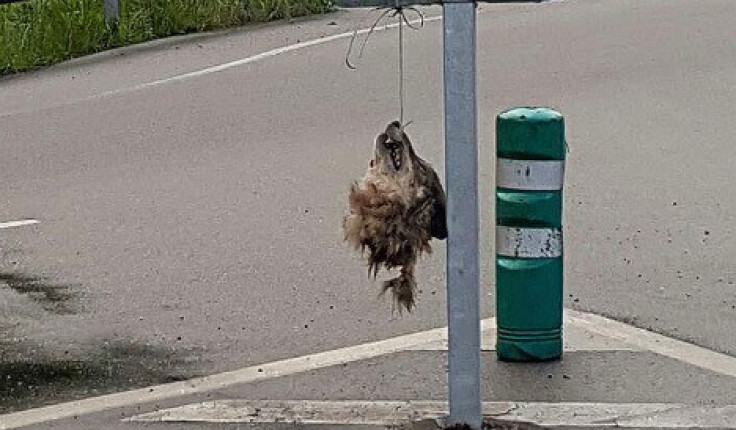 The severed head of a wolf was left hanging from a street sign in the town on Salas in Spain on Monday (30 May 2016) in the most recent of a string of attacks on the wild animals. Decapitated heads have been left around the Asturias region, northern Spain in, what it is reported to be, a series of attacks motivated by anger at the government's failure to control the wolf population.
Iberian wolves were once an endangered species in Spain, having been hunted up until the 1960s, but recent conservation efforts have seen the wolf population swell, The Local has reported.
However, Spain's wolf population – estimated to be 2,000 separated into 250 packs – has caused problems for countryside farmers, many of whom have lost livestock to the wild animals.
The 14,500 instances of livestock attacks between 2011 and 2015 in Asturias prompted local authorities to petition to be allowed to cull some of the animals – with permission given to kill 45 of the animals.
A spokesman for the Association of Forest Rangers of Asturias (Avispa) told the La Voz de Asturias he believed the attacks, which have seen the heads of the decapitated animals left on display in different areas in the region, were 'revenge attacks' carried out in response to the management of wolf numbers.
Authorities in the area are asking for any members of the public with information about the animal attacks to come forward.