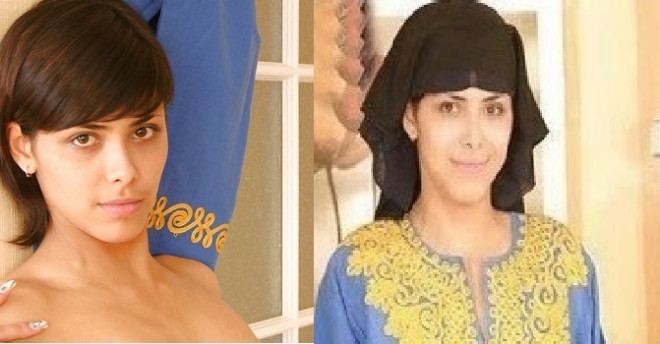 A Saudi woman who was said by Iranian media to have travelled to Syria to offer sexual services to jihadis fighting to overthrow the Assad regime has been revealed as a porn actress.
News outlets supporting the Shiite Islamic republic, a strong ally of Assad, claimed that "Aisha" was sent to Syria to perform "sex jihad" for rebels.
Reports of Tunisian women travelling to Syria to "wage sex jihad" emerged in 2013 after interior minister Lofti ben Jeddou told MPs that thousands of women had sexual relations with "20, 30, 100 militants" in wartorn Syria.
A Saudi sheikh allegedly issued a fatwa that allowed teenage girls to provide sexual relief for rebels battling Assad forces.
Jihad al-nikah, permitting extramarital sexual relations with multiple partners, is considered by some hardline Sunni Muslim Salafists as a legitimate form of holy war.
Muslim women prostituting themselves would be considered legitimate because they are making sacrifices - giving away their chastity and dignity - to help jihadis.
In the case of Aisha, however, the report proved to be a hoax. Iranian bloggers discovered that the picture used to illustrate Aisha's sex jihad was taken from a pornographic website.
The story was believed to have been made up by Iranian media to discredit the mainly-Sunni Syrian opposition. Tehran has been waging a propaganda war in the past three years in support of the Assad regime with an elaborate disinformation campaign.
There is evidence that the whole 'sex jihad' concept is just a PR campaign to discredit Assad rivals.
Human rights organisations have been unable to substantiate the stories. The sheikh behind the alleged fatwa, Mohammed al-Arifi, denied the claims against him.
"No person in their right mind would approve of such a thing," he said.