R. Kelly really isn't having the best of weeks. First releasing a video pleading with the black community to "support each other" by going out and buying his new album following low first week sales predictions, fans felt Kelly was on his knees, begging. Then when the sales figures finally came in they weren't great. With a total of 39,252 units moved in its debut week (36,353 of those being pure album sales), these are dismal figures the former r'n'b superstar is not used to. Agreed, music retail has changed dramatically since the days he was selling in the millions, but Adele's recent record-breaking numbers proves that if you have quality material and a solid buzz then you can move mountains, even fly, as Kelly famously sang.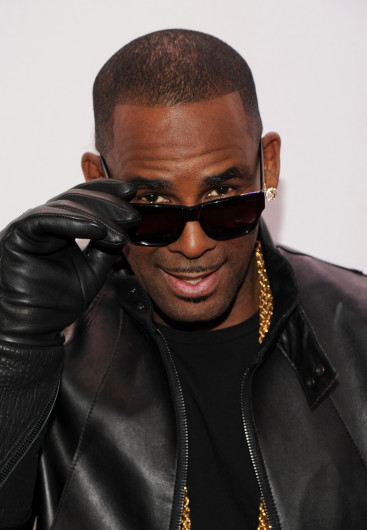 Topping off an already bad week, R. Kelly walked out in the middle of an interview with HuffPost Live on 21 December after refusing to answer questions about the sexual abuse allegations that saw him acquitted on all counts in 2008. Repeatedly talking over host Caroline Modarressy-Tehrani, he did everything he could not to answer the questions put to him by fans via Twitter.
So the question has to be asked, is this the end of the road for the king of r'n'b? Has his controversial past finally caught up with him? Or is the quality of his final product simply the reason for the lack in sales? IBTimes UK takes a closer look...
The king of r'n'b
There's no denying the musical genius of R. Kelly. When discussing the greatest creative minds of the r'n'b genre the same four names come up: Jimmy Jam & Terry Lewis, Babyface, Teddy Riley and R. Kelly. With multiple platinum-selling albums to his name, over 50 million records sold worldwide, and various awards and accolades, the singer/songwriter/producer is one of the most successful r'n'b artistes of all-time - in 2011 Billboard even named him the most successful r'n'b artiste of the past 25 years.
His 1996 hit I Believe I Can Fly, taken from the movie Space Jam, became a global phenomenon, topping the UK's Top 40 chart for three weeks straight. But this wasn't the only worldwide smash he was part of. Aside his own hits, he wrote, produced and composed Michael Jackson's You Are Not Alone, a song that became one of Jackson's most successful while also finding its way into the Guinness World Record books as the first song in the 37-year history of the Billboard Hot 100 to debut at number one. He has since gone on to add his talents to various projects for artistes like Jay Z, Usher, Notorious B.I.G., and more recently Lady Gaga and Justin Bieber.
Is it still OK to listen to R.Kelly?
Listening to R. Kelly's music in 2015 will always spark controversy. Facebook and Twitter posts that feature anything involving listening to his music is usually met with a response of disgust from someone due to the child sex abuse accusations made against him almost 13 years ago. Accused of multiple counts of sex with a minor, it's hard to stomach supporting such a questionable character, and this includes listening to his music, even though he was found not guilty.
The thing is, as controversial as it may be, some people can separate the art from the artiste. To some it's about R. Kelly the musician, not R. Kelly the accused sex offender. Do people still watch Woody Allen movies even though he had an affair with his college-age adopted daughter and was accused of sexual assault on a minor? Yes. Do hip-hop fans embrace rappers who openly admit to selling drugs that in turn have ruined lives of individuals and families? Yes. And not only that, people have been quick to forgive Chris Brown for assaulting Rihanna.
It seems like there's a double standard when it comes to R. Kelly, so why is that? It's likely to do with the multiple videos of a man that looks like him engaging in sex acts with underage girls, and because there's evidence he married Aaliyah at the age of 15 when he was 27. No one condones what R. Kelly was accused of, but if Michael Jackson can still be held in such high regard and he was accused multiple times of having sexual relations with a minor, then how come the same can't be said for Kelly? It's because music fans are hypocritical when it comes to their favourite stars and Michael Jackson was never painted in the same light as R. Kelly because he's the king of pop and has a broader appeal. His music overshadowed his personal life in the end.
Quality control
R. Kelly fans are not the only ones who are conflicted at this time. Kelly himself seems to be pretty conflicted when it comes to the creation of his music. Beginning as a party starter (She's Got That Vibe), then a singing sexologist (You Remind Me Of Something), then a modern day stepping soul man (Happy People), ever since the mid-late 2000s he's not been able to achieve the same level of consistency previously shown.
Maybe the reason why Kelly isn't supported the way he used to be is down to the simple fact that his music just isn't as good as it once was.
Walking a thin line between catering to his longstanding fans and trying to win over new ones, the new music put out by Kelly just isn't striking a chord with listeners. It's hard to think the same guy who made 12 Play, R. and TP-2.com can't put together a cohesive body of work without ruining it with vulgar sexual innuendos, switching soundscapes, and almost comical subjects, all the while trying too hard to appeal to today's youngsters.
New album The Buffet is full of cringeworthy moments - oral sex sound effects included. As a listener you have to wonder if R. Kelly understands that he's nearly 50-years-old and was almost convicted of rape, because the some material in his new album makes him sound like a creepy old man who doesn't know when it's time to put his pimp cup down.
Media massacres
Last night's HuffPost Live walk-out was just the latest in a long list of PR fails for the crooner. Besides the #AskRKelly Q&A with fans on Twitter in 2013 that backfired terribly, his BET News interview with Touré back in 2008 was the worst. Filmed after his trial was over, Kelly was asked, "Do you like teenage girls?" he replied by asking: "When you say teenage, how old are we talking?"
Either R. Kelly is in dire need of some updated media training or he has a lot of yes men in his circle offering poor advice when it comes to PR. Kelly has found himself in some difficult situations over the years, and with so many misguided media steps you wonder if he should be doing any interviews at all.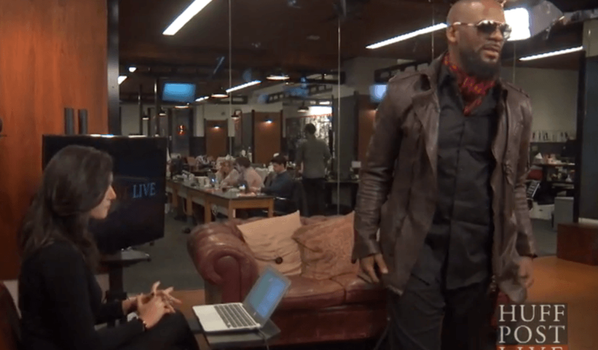 The end?
Everyone will always have an opinion of R. Kelly and his alleged crimes, even more so now with social media so prevalent. But is this the end of his musical career? It's doubtful. People love controversy too much. People love to talk. People love to troll. It's 2015. He does however need help. He needs a better team. He needs people around him who are going to tell him that doing interviews with people he doesn't know or trust isn't a great idea.
He needs help figuring out his next move musically too. Instead of being that creepy old man in r'n'b, leave the booty shaking talk to the youngsters and adopt a more contemporary soul approach and make music for his own generation, like one of his biggest inspirations, Sam Cooke. Stick to love. Stick to partying and having a good time. Stick to stepping. Leave the explicit tales of bedroom antics to the likes of The Weeknd, because it's not helping. It's hurting him and his brand, as if it wasn't already hurt enough.