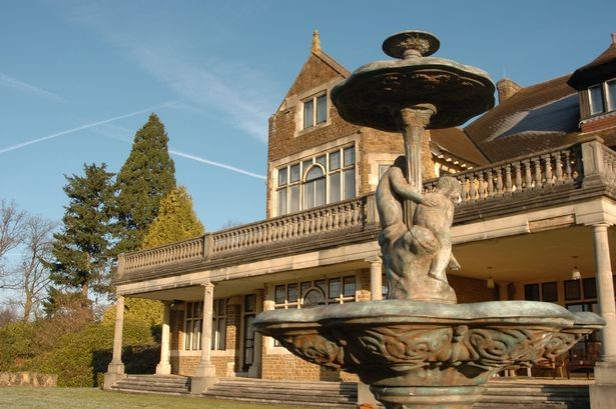 Sex parties which have revellers "dribbling with excitement" are taking place at the home of a former Pakistani president in Surrey.
Wild gatherings featuring nude women, naked tennis, sex in swimming pools and other carnal activities across five 'play areas' are being held at Rockwood House, a mansion that used to be owned Benazir Bhutto - the two-time prime minister of Pakistan who was murdered in 2007.
Organisers of the parties defended their taking place in the sleepy village of Witley, claiming that hordes of uninhibited couples provide good business for local cab firms.
In August, up to 500 people swarmed to Rockwood House for sex thrills at an all-weekend party.
Relatives of Bhutto, who was Pakistan's first female premier, owned the sprawling country pile between 1995 and 2004. The politician reportedly lived there with her husband, Pakistan's current president Asif Ali Zardari.
However it is currently being used for a completely different purpose by Little Liaisons every month.
Everything legal - why should anyone be ashamed?
The tenant of the property told GetSurrey.co.uk: "This is not a venue. This is a private home, where I occasionally hold private events for a range of open-minded and wonderful people.
"The majority of events I hold here are musical events, or I have hosted wonderful charity events. Yes, there have been events of a sexual nature, but I don't see why that is anything for people to be ashamed about.
"Everything that takes place is within the law and the authorities have absolutely no concern. Why should shame be attached to sexuality?
"Everyone has the image of sleepy Surrey villages but these are happy events not some of the cocaine-fuelled private parties that probably take place all over the county."
According to reviews on the firm's website it seems there are plenty of satisfied customers.
An anonymous reveller said: "Talk about gob-smacked... beautiful people, incredible performers, stunning venue with an ambience to make you dribble with excitement."
Another said: "It was just perfect! We would particularly like to thank the owner of the property for its lovely welcomes. We will be delighted to participate in your next event. Big hugs to all of you."
However, the parties could be brought to halt soon because the property is up for sale for £8m.