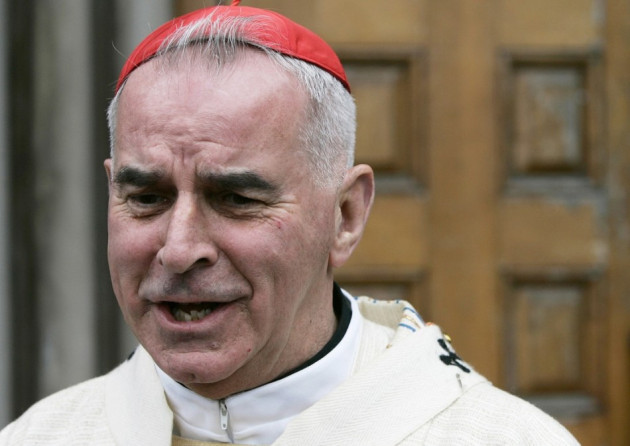 Shamed Cardinal Keith O'Brien is to do penance at the Vatican in a bid to atone for his sins.
O'Brien stepped down as Scotland's top Catholic when three serving priests and one former priest made sex allegations against him, earlier this year.
Now he is to quit Scotland for the Vatican for several months of "penance."
It comes after O'Brien admitted his conduct during the 1980s had "fallen below the standards" expected of him.
It will be the first time O'Brien has travelled to the Vatican since he was forced to withdraw from the election of Pope Francis to the Papacy.
The Vatican said O'Brien was going for the purpose of "spiritual renewal, prayer and penance."
Following his resignation, O'Brien moved in to a church house in Dunbar. But that proved unpopular with some critics who claimed he was unworthy of it as he had damaged the church in Scotland.
It is understood the Vatican will have the final say on O'Brien's domestic arrangements.
He said the sex scandal has been "difficult and humbling" for him.
He added: "I'm just trying to do my best to live a good Christian life myself now. Many people have been helping me to go back on the right path and that's what I have to do.
"But I haven't always managed to live that in my own life."
"I have been supported in a number of ways by many good Christian people and many people of no religion at all who realise I have said sorry for anyone I have offended.
"If Christianity is about anything at all it's about forgiveness.
"That's what I have to do as a Cardinal priest - just forgive the wrongdoer and help them go back on to the right path again."
O'Brien has been outspoken in voicing opposition to the vow of celibacy which prevents members of the Catholic priesthood from marrying.
He told BBC: "I realize that many priests have found it very difficult to cope with celibacy as they lived out their priesthood and felt the need of a companion, of a woman, to whom they could get married and raise a family of their own."