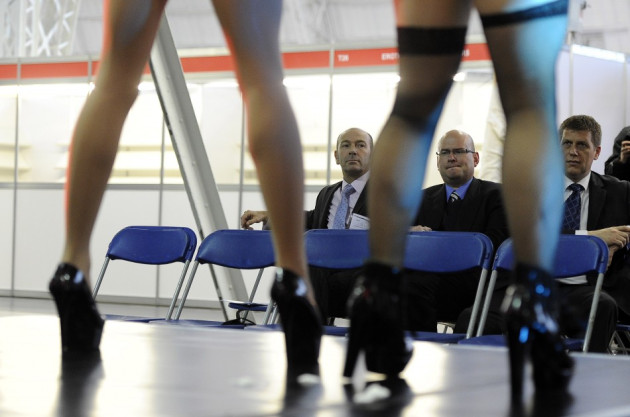 Sexually conservative men are more likely to engage in casual sex if they are shown erotic images, a study has found.
Previous research has shown that sexually conservative people tend to have less sex, but when they do they engage in riskier practices, such as not using contraception.
Megan Roberts and Rick Gibbons, from Dartmouth College and Medical School, have looked at this contradiction: "An intriguing element to this paradox is the question of why sexually conservative individuals are having sex at all," they wrote.
"In other words, it appears some individuals may be reporting low or not intentions for risky sex and then having risky sex anyway - a scenario that we are calling the sexually conservative puzzle."
The researchers asked men about their causal sexual behaviour in two separate experiments. In the first, 75 undergraduates were questioned in person. In the second, 112 men, aged between 18 and 57, completed the interview online.
All were asked if they planned to have casual sex in the next six months. People who said 'definitely not' were classed as being sexually conservative.
Half the men were then exposed to photos of a scantily clad woman. The other half were shown non-sexual but pleasant images.
The first group had the images flash on a screen very quickly so the men were not aware of them. In the second, the men were asked to rate the pictures for a pseudo advertising campaign.
After seeing the images, they re-took the questionnaires about their plans for casual sex.
Findings showed men who were sexually conservative were more willing to engage with casual sex after seeing the image of the attractive woman.
Swayed by sexual cues
Roberts said: "Our results show that those who had previously reported no intentions for casual sex showed more willingness to engage in casual sex after viewing the sexual images.
"This demonstrates that compared to men who intend to have casual sex, those who didn't showed an increase in willingness to do so if they had viewed sexual images. This was even true for the older men who were in committed relationships. Overall, this suggests that sexually conservative men can be more swayed by subtle sexual cues.
"Many adults do not intend to have casual sex, but would be willing to do so if presented with the opportunity. This finding has sexual health implications, because individuals who are not intending, but are somewhat willing, may not have contraception and thereby leave themselves open to unplanned pregnancies and STDs."
Speaking about the outcomes of the study, Roberts told IBTimes UK: "The results made sense to us, since they help explain previous findings (specifically, that sexually conservative individuals have a lower frequency of sex, but, when they did have sex, they often engage in riskier sexual practices).
"However, as we note in the paper, although change in willingness in response to the sex cues was greater for the more sexually conservative men, absolute levels of willingness were, nevertheless, still greater in the less conservative men.
"In other words, while the sexually conservative men responded more strongly to the sex cues, the sex cues did not bring them up to the level of the less conservative men - they were reporting high intentions and high willingness.
Explaining her expectations for a similar study on women, she added: "My hypothesis is that the same mechanism occurs for women, but we may need a different paradigm to study it. Flashing pictures of men in bathing suits might not do the trick."