Shahid Khan, a Pakistan-born American billionaire and the owner of NFL side Jacksonville Jaguars, has completed a takeover of Premier League club Fulham. The 61-year-old businessman buys the Craven Cottage club from former owner Mohamed Al Fayed of Egypt.
A statement on the club's website says:
"Mohamed Al Fayed has sold Fulham Football Club to Shahid Khan, the CEO of Flex-N-Gate Group and owner of the Jacksonville Jaguars of the National Football League in the United States. The transaction has been approved by the Barclays Premier League. Khan assumes 100 per cent ownership of the club, debt-free, as of today [Friday, 12 July]."
The Cottagers' new owner has a net worth of $2.5bn (according to Forbes' 2012 calculations) and the Telegraph believes his purchase of Martin Jol's team cost him between $226m and $300m.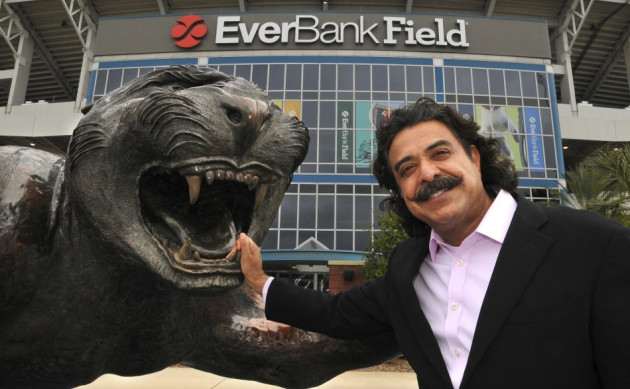 The latter report also adds the undisclosed purchase is similar in value to a loan extended to the club in 1997, after it slipped to the lower levels of professional football in England.
Khan, who made his fortune in manufacturing car parts, is now the sixth US-based owner of a Premier League club. He is also the third person to own NFL and Premier League franchises simultaneously; the others are Malcolm Glazer (Manchester United and Tampa Bay Buccaneers) and Stan Kroenke (Arsenal and St Louis Rams)
Meanwhile, Fayed's 16 year ownership of the club has seen the Cottagers rise from the lower divisions to become a regular in the Premier League and has even seen them taste European football over the past few seasons.
"My time of serving as the custodian of Fulham Football Club would one day come to an end, and I feel that time has now arrived. Fulham will be in very good hands with Shahid, whose success in business and passion for sport is very evident," the Egyptian said after confirming the sale.
"Mr Al Fayed rescued the club in its hour of need and has led it to a sustained place within the Premier League. Fulham is the perfect club at the perfect time for me. I want to be clear, I do not view myself so much as the owner of Fulham, but a custodian of the club on behalf of its fans," Khan said in a statement.
"My priority is to ensure the club and Craven Cottage each have a viable and sustainable Premier League future that fans of present and future generations can be proud of," Fulham's new owner added.
Fulham begin the 2013/14 Premier League season with a trip to Sunderland on 17 August, followed by their first London derby of the season - at home to Arsenal.