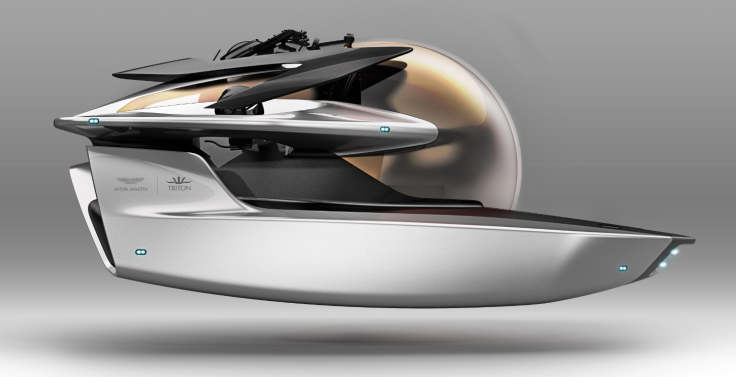 Aston Martin is expanding beyond the world of luxury road vehicles and into deep water with a James Bond-like submarine, which could eventually retail for $4m (£3m). The high-tech submersible, dubbed Project Neptune, was revealed at the Monaco Yacht Show on Thursday (28 September).
Project Nepture is the brainchild of both the British automaker and Triton Submarines, although you would be forgiven for thinking its sci-fi-style came straight out of MI6's Q labs for 007's next mission – he does have a penchant for Aston Martin supercars after all.
The vehicle seats three people using Triton's "Low Profile" platform, which houses its passengers inside an acrylic bubble, outfitted with air conditioning, that lets occupants view their surroundings during underwater adventures.
In a press release, Aston Martin stated that the partnership "marries Triton's diving and operational expertise with Aston Martin's design, materials, and craftsmanship".
"Project Neptune is defined by its sleek, elegant exterior," said Aston Martin executive vice president and chief creative officer Marek Reichman. "We have used forms and proportions that express the same devotion to design, engineering and beauty that shape our cars, such as the Aston Martin Valkyrie hypercar project."
Florida-based company Triton has claimed that the ambitious submersible will be the lightest and lightest and smallest three-person sub that has even gone into production (via Bloomberg). It will reportedly be capable of diving to 1,650 feet and can travel at a speed of 3 knots (3.5mph)
Expected to be available in roughly a year's time, Project Neptune will be an "exclusive, strictly-limited edition vehicle", which indicates that supply will be very low and aimed squarely at the ultra-luxury, superyacht-buying market.
This won't be Aston Martin's first seafaring trip, of course. Just last year the manufacturer revealed the AM37 – a speedboat-like 'yacht' that was the sports car company's first ever watercraft.